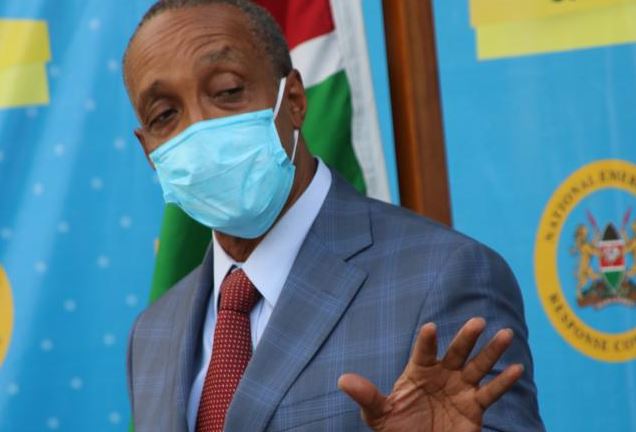 The government has warned business owners taking advantage of the Covid-19 situation to increase prices of goods and commodities. "We have noted that some businesses are operating within areas where movement has been restricted in Coast, Nairobi and North Eastern parts are hiking prices of goods. It is shameful if we take advantage to profiteer from these hard economic times," Health CAS Dr Rashid Aman said. He appealed to vendors to be more considerate as these are not normal times.
SEE ALSO: Virus war a matter of personal responsibility, not just the law
State has also put youth on the spot for taking advantage of the coronavirus pandemic to harass and steal from unsuspecting Kenyans, as confirmed cases continue to rise. In Wednesday's Covid-19 status update, Health CAS Dr Rashid Aman said these behaviours, whereby youth rob commuters under the pretext of not wearing masks, were unwelcome. "I want to caution the youth; they cannot act as police. That is going too far," Dr Aman said. Youth are also accused of demanding money from individuals of neighborhoods where they are exercising cleaning, under the National Hygiene Initiative.
Covid-19 Statistics
SEE ALSO: Community mental health services vital in addressing crises
Another 22 people have tested positive for the coronavirus disease, bringing the national tally to 737. The Health Ministry says it has tested 1,516 samples in the last 24 hours. The country has now tested 35, 432 samples so far. Twenty-one of the new cases are Kenyans and one a Ugandan. 17 of the cases are male, while five are female. The new cases are spread as follows: Nairobi County-10, Mombasa- 8, Kajiado-3 and Bomet County- one case.
SEE ALSO: Ensure the poor have access to basic needs
Bomet now joins 19 other counties with confirmed Covid-19 cases in the country. The Ministry has discharged 22 more patients, bringing recoveries to 281, and lost four more patienst to the disease, bringing the death toll to 40. Health CAS Dr Aman also announced that they had tested samples from truck drivers at the Namanga border on the Tanzanian side. Of these, 25 turned positive for the coronavirus. 23 drivers are from Tanzania, one from Rwanda and the other Uganda.
Kenyans in diaspora
Earlier, Foreign Affairs Cabinet Secretary Raychelle Omamo said that 193 Kenyans living abroad have tested positive for the coronavirus. 30 have died of the disease, while four others are in critical condition.
Porous borders
Yesterday, Dr Aman said the government was focusing on upscaling the security level at various border points to curb the cross-border transmission. A high-level delegation from the Health Ministry had been dispatched to Kajiado County to monitor the screening process at the borders.