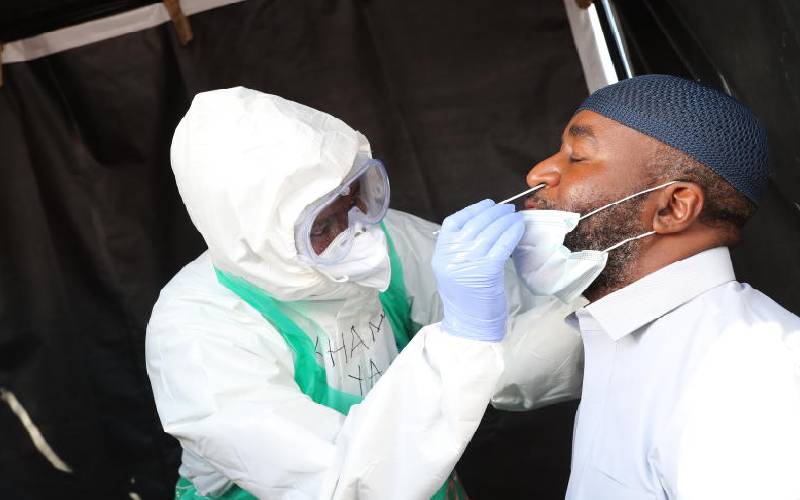 Diagnostic testing for residents of Old Town, Mombasa has been suspended after angry youths ejected a team of medical officials and threatened to burn down an ambulance. Trouble started at around 4pm on Monday when rowdy youths armed with crude weapons barricaded the town's narrow streets accusing the county government of trying to disrupt prayers during Ramadhan. The medical teams fled and are now demanding police escort before venturing back to Old Town. In a video that went viral, angry youths could be seen barricading a street where a man was praying at the corner. The youths blocked vehicles from approaching the venue claiming the State had imposed restrictions against congregational prayers and the traditional Islamic way of life.
SEE ALSO: Town grows money from trees during pandemic downturn
In a separate incident, local youths become rowdy when police confronted them demanding to know why they had declined to wear face masks. They began chanting slogans and warned health officials not to set foot in Old Town. Later, an ambulance responding to an emergency to pick a patient was blocked and ejected from the area. The fate of the patient was not established. With 57 confirmed positive tests by yesterday out of Mombasa's 169 infections, Old Town has the highest infection rate in Kenya but is also proving the most resistant to containment measures. The state has threatened a total lockdown of the densely populated shantytown and barred non-residents from entering it to stem infections. The spiral of infections started on April 19 when a famous herbalist and Islamic scholar Mohamed bin Hassan alias Mwinyi Karama died after testing positive for the virus.
SEE ALSO: Wall Street's Big Tech enthusiasm getting stronger
Within days, five members of his household tested positive. Later, a resident who had visited a barber together with the herbalist's neighbour tested positive and infected his wife and children. "We have not known where the herbalist was infected," Aisha Abubakar, Mombasa County government chief officer of health said. Attempts to test residents have been met with scepticism and opposition spurred by ignorance, myths, conspiracy theories and incitement by some local clerics and politicians opposed to Governor Hassan Joho. When tests were launched at two stations in Old Town late last week only seven residents turned up, prompting the governor and local leaders to warn that they were courting a disaster. When medical teams returned on Monday evening they were met with hostility and chased away, with hostile youths chanting that they will not allow health officials there.
SEE ALSO: Panama hospitals on verge of collapse as virus cases surge
On Monday evening Governor Joho, who moved the testing exercise to Likoni ferry, said he was shocked to see some youth in a video blocking ambulances from accessing the area. He commended those who turned out for testing and warned those inciting others. "I have seen a video some youths blocking the ambulance. Don't joke with us. Someone tell them to start vacating, we will hunt them wherever they are," he said. He said his administration will foot bills incurred during quarantine period for those found positive with the virus and that there was no need to panic. Mombasa County Commissioner Gilbert Kitiyo promised to bring the suspects to book. "Those attempting to scuttle health officials from carrying out mass testing will face the full force of the law. We will not allow few individuals to plunge Mombasa into the grave," he said.