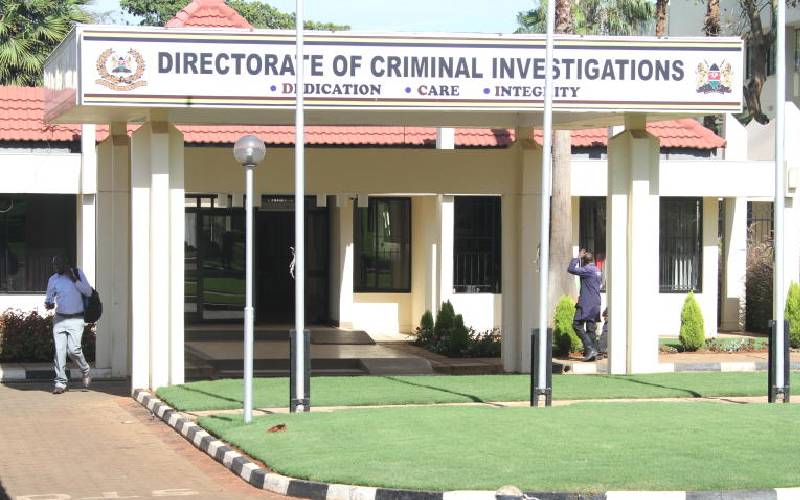 The Director of Public Prosecutions (DPP) Noordin Haji and Directorate of Criminal Investigations (DCI) boss George Kinoti are at it again; pulling and pushing over what, to many, looks like mundane issues. Their new tussle started with the DCI boss recently when he reportedly ordered his officers not to surrender original documents to prosecutors. Mr Kinoti argued that prosecutors must obtain permission to access original investigation files, a move the office of the DPP termed illegal, untenable and unworkable.
SEE ALSO: Cop, four suspects held while trying to steal Sh28.5m from Busia bank
Then on April 27, the ODPP scuttled the DCI's bid to charge six National Water Harvesting and Storage Authority officials, including acting CEO Geoffrey Sang, before getting its approval. Last month, Kenya Ports Authority boss Daniel Manduku left the court without being charged after the two sides differed. Kenyans are increasingly getting exasperated by the ping-pong between the ODPP and DCI. Although we are not conversant with the nitty-gritties of their modus operandi, we know that the DCI is supposed to conduct investigations while the ODPP's work is to prosecute. We believe the two offices have their job descriptions and that each knows what it is supposed to do.
SEE ALSO: Suspect behind car theft syndicate arrested in Kitale, seven cars recovered
If both, or one of them, has forgotten what it is that their work entails, it is important they be reminded. If there is supposed to be co-operation between the two offices, it should be clear cut. There should be no ambiguity. If the DCI is supposed to give the DPP only duplicates of documents, so be it. But if that is not in black and white, fresh regulations must be laid down to bring to an end this charade that threatens to deny Kenyans justice. The public should know what to expect from each of the offices so that it can judge them accordingly.