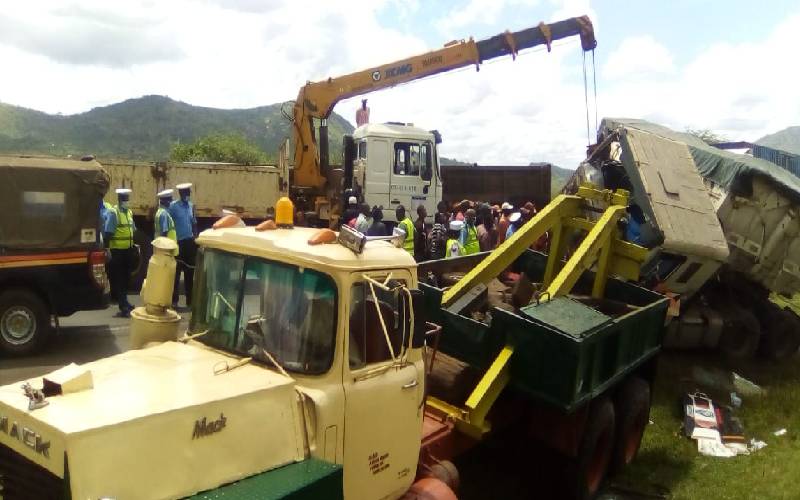 Two people died on Sunday when two trucks collided head-on at Kwa King'ee area between Salama and Sultan Hamud on Nairobi-Mombasa highway. The 10 am accident involved a truck carrying animal feeds which was heading to Mombasa and another one headed to Nairobi. The deceased were in the truck headed to Mombasa with the driver sustaining severe injuries.
SEE ALSO: Machakos dawn accident claims 5 lives, scores injured
It took traffic police and members of the public hours to remove the trapped driver. The two drivers were taken to Machakos Level 5 Hospital with the driver of the truck headed to Nairobi having sustained minor injuries. A witness, Joshua Muli said he heard a loud bang and dust filled the air and that was when he rushed to the scene. Muli accused traffic police of taking too long to remove the injured from the wreckage leading to the death of the two. "It's hours and police are only making phone calls. I have not seen any intervention to save lives here," he said.
SEE ALSO: Three people die in a road accident in Machakos- Photos
He termed the area as a black spot, saying on Thursday one person died at the same spot in an accident involving a truck with wheat on transit. By the time of going to press, the two bodies were still trapped in the wreckage.