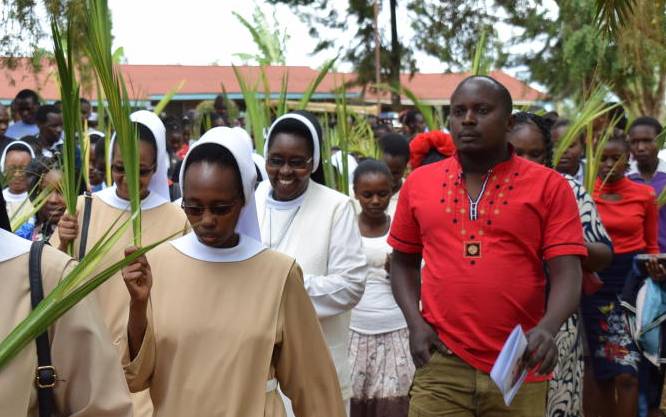 Catholics around the world are celebrating Palm Sunday. It encompasses a deviation from the normal celebrations due to the coronavirus penetrating various countries around the globe. Doubts cloud the practice of processional walk with palm tree leaves as faithful stream into their local churches for the mass. In Kenya, the Government had announced a ban on social gatherings. The directive massively affected the church congregations as it abhors close body contacts which could lead to infections. Based on the government directive, Kenya Conference of Catholic Bishops (KCCB) on Saturday evening directed Catholics to follow Palm Sunday service on various local TV stations. The mass is to be aired by stations such as KTN Home, Farmers TV, Citizen, KBC and NTV. The clerics say the move is to enforce the social distance and "stay at home" orders to combat the spread of Covid-19.
What is it?
The fete marks the beginning of a crucial period in the Catholic calendar. According to Catholic.org, Palm Sunday is the last Sunday of the period of Lent. It marks the beginning of what they refer to as the Holy Week leading to the Easter period. Catholic sources have heaped significance on the Palm Sunday which they tie to a biblical event in which Jesus Christ entered Jerusalem city riding on a donkey as followers welcomed him with palm tree twigs. Catholic.org states: "Palm Sunday is known as such because the faithful will often receive palm fronds which they use to participate in the reenactment of Christ's arrival in Jerusalem. In the Gospels, Jesus entered Jerusalem riding a young donkey, and to the lavish praise of the townspeople who threw clothes, or possibly palms or small branches, in front of him as a sign of homage. This was a customary practice for people of great respect." It reveals that Jesus' ride on a donkey was symbolic the same as the palm tree leaves themselves.
Origin of Palm Sunday
According to Christian Today.com, the fete began in the fourth century in commemoration of Jesus Christ's triumphant entrance into Jerusalem as documented in Christian's Holy Bible. It says: "Palm Sunday started around the fourth century in the Jerusalem Church. In its early celebration, Christians sang hymns and recited prayers and sermons as they walked through several holy sites in the city." Though there no accounts of marking Palm Sunday in the Bible, after Jesus' crucifixion and ascension, Christian Today.com says that practice had certain norms which were followed which spilled from generation to generation.
,
seems to have originated in the Frankish Kingdom. The earliest mention of these ceremonies is found in the Sacramentary of the Abbey of Bobbio in northern Italy, it says. In the article describing the history of Palm Sunday, penned by Fr Francis Weiser, it appears the fete was incorporated into Roman Catholic Church after it originated from the Frankish Kingdom.