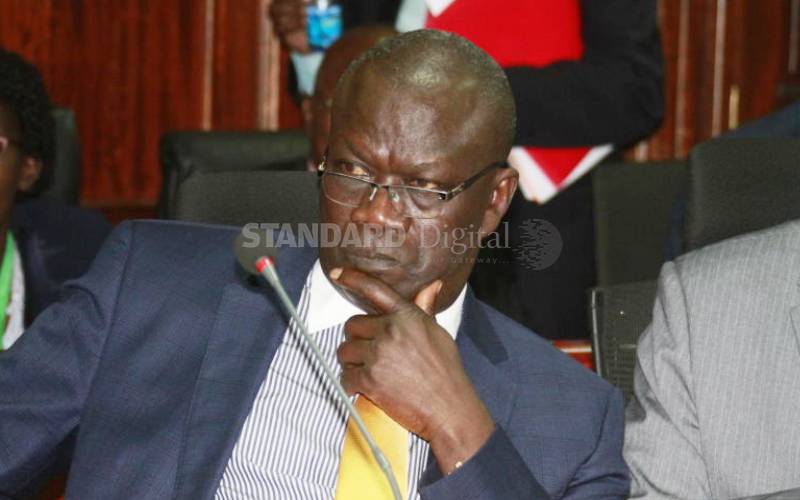 Nyanza
In Homa Bay, Mr Awiti announced that only family members will be allowed to attend their kin's burial.
Burial ceremonies in Nyanza are known to be colourful. People in the region highly value burial rites and every time death knocks on a family's door, people spend several days condoling with its members while helping them make burial arrangements. But with the ongoing restrictions to check the spread of the coronavirus pandemic, the situation in the region is bound to change. Four Nyanza governors - Cornel Rasanga (Siaya), Anyang' Nyong'o (Kisumu), Okoth Obado (Migori) and Cyprian Awiti (Homa Bay) - yesterday announced the shutdown of all mortuaries. The governors have also ordered that burials should take the shortest time possible, and should not be attended by more than 100 people.
SEE ALSO: Things look up for key sectors in Sh53.7b State spending plan
Gone are the long weeks of preparations that are often tampered with festivity.
Cherished culture
The festivities are a culture that has been passed down from one generation to the next with friends and relatives eager to raise huge amounts of money, sometimes running into millions, to give their kin a decent send-off. Yesterday, members of the Luo Council of Elders told The Standard that although the orders violated the cultural practices they hold to heart, residents have no option but to comply. Opiyo Otondi, the council's chairman, said the Covid-19 pandemic has created a deadly situation that supersedes tradition.
SEE ALSO: Covid-19 has adversely affected the youth, AMREF says
"Luos have always loved the dead even more than the living. That is why our burials are always elaborate," said Mr Otondi. Now, however, Otondi said, people have been left with little options but to obey their counties' decree -- bury the dead quickly to avoid empowering the pandemic. "It is important that we abide by these restrictions. Families that feel they have not given their loved ones a good send-off can plan an elaborate ceremony during the next anniversary," he said. Over the weekend, Prof Nyong'o ordered all burials in the county to be conducted within 48 hours. Mr Rasanga also gave similar orders. Nyong'o argued that the move was part of efforts to help the county contain the spread of Covid-19 among residents. "The situation will be reviewed in three weeks and a new announcement made," said Nyong'o.
SEE ALSO: Study: Covid-19 battering Kenyan youth into poverty, depression
In Homa Bay, Mr Awiti announced that only family members will be allowed to attend their kin's burial. Awiti said his administration was minimising the number of people in funerals to avoid crowding at the ceremonies. "We have directed that burials be left for relatives only to attend. This is in order to avoid crowds, a situation which may spur the spread of coronavirus," said Awiti. Other gatherings made of more than 15 people have also been banned. The governors also restrained residents from hugging, kissing and shaking hands. "We want people to stop practices which can increase chances of contracting the virus," Awiti said.
SEE ALSO: Reinvention key to staying afloat past pandemic era
Open-air markets have also been banned. This comes even as the region starts experiencing a slowdown in business. In Migori, several elders claimed they were torn between obeying the directives or following their traditions. Eliakim Anduru, Jacob Ngore and Sawre Maroa, elders from Suna East, Suna West and Kuria East respectively, said the decision by the county government was in order.
Elders' support
They urged residents to support it. "I strongly support the decision although it violates our traditions. The move will reduce the crowding that we usually witness during burials," said Mr Anduru.
SEE ALSO: Why telemedicine will be a game-changer in Kenya's post-COVID landscape
Bishop Dominic Achola of Church of Christ in Africa, Bondo Diocese, said families that are unable to raise mortuary fees to collect their kin for burial should take advantage of the directive and collect the bodies. Achola said in the next 30 days, people must take precaution to contain the virus. He noted that the order by the governors that corpses should be buried within 48 hours was appropriate. Lameck Ochieng, a Migori resident, also lauded the governors' directive and said it was for the benefit of residents. "The order will only last for 30 days. I do not see a problem with it. The governors are just trying to ensure that residents are safe," said Mr Ochieng.