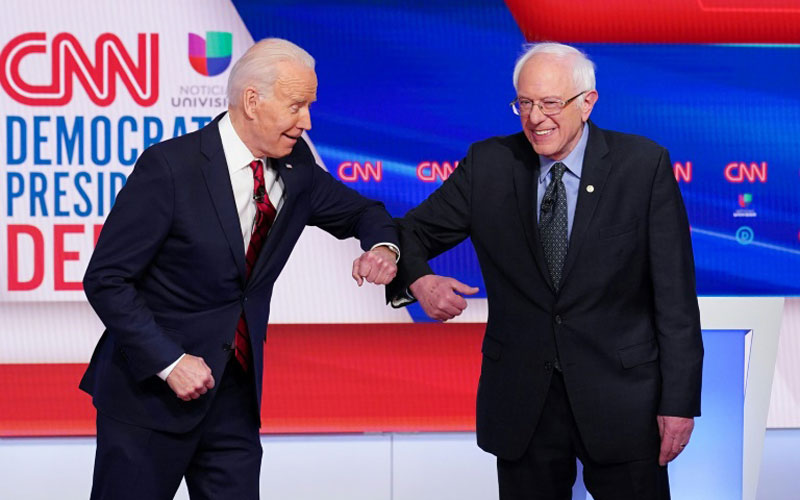 White House hopefuls Joe Biden and rival Bernie Sanders launched a joint attack on Donald Trump's response to the coronavirus pandemic as they faced off in high-stakes debate Sunday, accusing the president of undermining his own scientists with misinformation. Going head to head days before four large states hold Democratic primaries, the two main candidates left in the marathon race stood six feet (1.8 meters) apart on stage and elbow bumped one another at the start of a televised debate held with no live audience. Sanders, the 78-year-old underdog who needs a strong showing Tuesday in order to keep his White House dreams alive, took a stinging shot at the president, accusing him of fomenting confusion and eroding the all-important trust in government institutions in the time of crisis. "We have to shut this president up right now because he's undermining the doctors and the scientists who are trying to help the American people," Sanders added, referring to multiple statements by Trump that have been at odds with expert views.
'Weakness and dysfunction'
Both Biden and Sanders have had to cancel planned rallies, and on Sunday they acknowledged shifting from live rallies to televised or online events -- and that they are both taking precautions to avoid getting infected. Scrapping live events could pose a particular handicap to Sanders, who has consistently mobilized large and enthusiastic crowds at his campaign events. Sanders may find one advantage. The coronavirus crisis has exposed some of the vulnerabilities he often denounces in the US health system as he calls for the federal Medicare system to be expanded to cover all Americans.