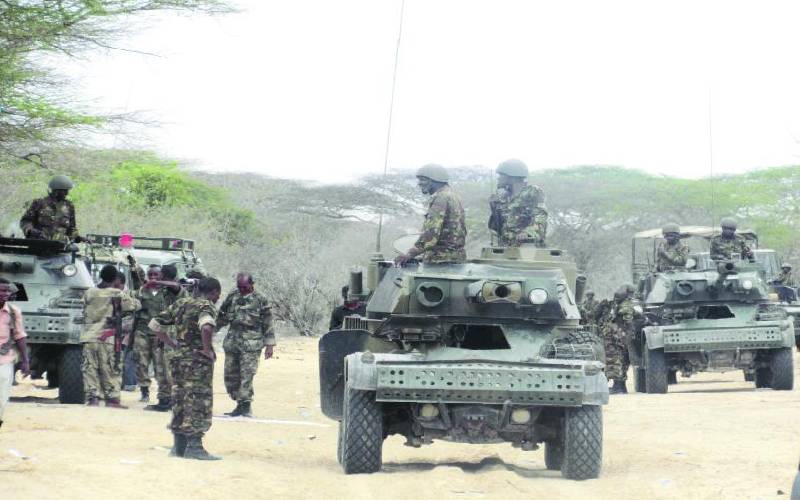 I am a patriot and I write as a proud Kenyan. Kenya's interests are paramount to me. I know we are in Somalia to help defeat Al Shabaab and keep the peace. Every patriotic Kenyan despises Al Shabaab after all the terrorist attacks they inflicted on us. They must be destroyed. The time has come to honestly review and assess the success or failure of the tactics and strategies that we have used to fight this war. Our priorities are to protect Kenya, not defend Somalia – that's their responsibility. Kenyan troops went into Somalia in 2011 after Al Shabaab fighters kidnapped tourists from Lamu. They stayed on under the umbrella of UNISOM to keep the peace and stop Al Shabaab from attacking us or taking over Somalia. We have achieved neither goal. Instead, we have unwittingly found ourselves as an invading army in a foreign land and given them an excuse to attack us. Our logic for being there was to take the battle to their side of the border and keep ours safe. Has this strategy worked? A similar strategy was applied in Vietnam. They came up with the 'Domino Theory'; that is, if Vietnam fell, then the whole of Asia would fall to the Communists. The Russians invaded Afghanistan to keep their friends in power. Then the Americans invaded to prevent Iraq and Afghanistan from falling to the terrorists. In 1982 Israel invaded Lebanon 'to keep Israel safe and to fight the terrorists on their grounds rather than in Israel'.
SEE ALSO: Elevation of women in KDF uplifting news for girls and entire country
Military advisors
Sounds familiar? The same pattern and justifications; to stop terrorists and keep the peace. A small force then escalates and it gets bogged down for years. Generals all over the world and throughout history have always called for more troops when their strategies fail, more boots on the ground. They call it 'escalation'' or the 'surge'. In Vietnam, they went from a few military advisors to over 549,000 troops and over 58,000 died there. The same surge was to follow in Iraq and Afghanistan. It doesn't work. We have now been in Somalia for almost 10 years. More and more expensive and our youth continue dying there. Military action is supposed to force other parties to come to the negotiating table. It is a short term catalyst for a political solution. This hasn't worked in Somalia. The military cannot bring a solution or solve problems. They are not the answer. If used for too long, they end up becoming the problem as they did in Vietnam, Iraq, Afghanistan and Lebanon. Generals hate the idea of withdrawal, it smacks of defeat. But it's not defeat, it's a change of strategy. If a strategy has not brought the results after 10 years, it is insane to continue the same strategy. Israel has learnt its lessons well after the invasion of Lebanon. It now resorts to vicious reprisals against any attacks to make the opponents think twice before attacking them. Fortify the borders with a lean but rapidly mobile army and the use of sophisticated technology and enhanced intelligence gathering to anticipate and deflect future attacks. In the long run, it's cheaper and more effective.
Good neighbour
SEE ALSO: Somalia and breakaway state Somaliland hold talks
Somalia's problems are not ours and are not of our making. If they can't solve them, then why are we interfering? They have made it abundantly clear that they do not want us there. The mandate of UNISOM is expiring and they don't want to renew it. Good – let's pack and bring our boys home. They sue us in international courts and are clearly not acting as a good neighbour. If they can't solve their own problems then why do we have the hubris to imagine that we can solve them? Let them be. We have enough of our own political, social and economic problems to solve. Finally there is the fear that if left alone, Al Shabaab could overrun Somalia. Maybe that's not such a bad idea. After all, all the other governments that we have supported have failed. When he was told that Hamas had won the elections in Gaza, Palestinian President Mahmoud Abbas retorted "Good. Let them win. Let them deal with teachers' salaries, sewage problems, hospitals and all the myriad problems that a responsible government has to deal with". When Al Shabaab has to deal with these problems perhaps they will leave us alone. After 19 years, the Americans are now negotiating with the Taliban and do not be surprised to see the Taliban rule Afghanistan again. We have to rethink our Somalia strategy and try something else. Let's get out of Somalia and use the massive funds we spend there to protect our borders using technology and mobile rapid response forces.
Mr Shahbal is chairman of Gulf Group of Companies. [email protected]