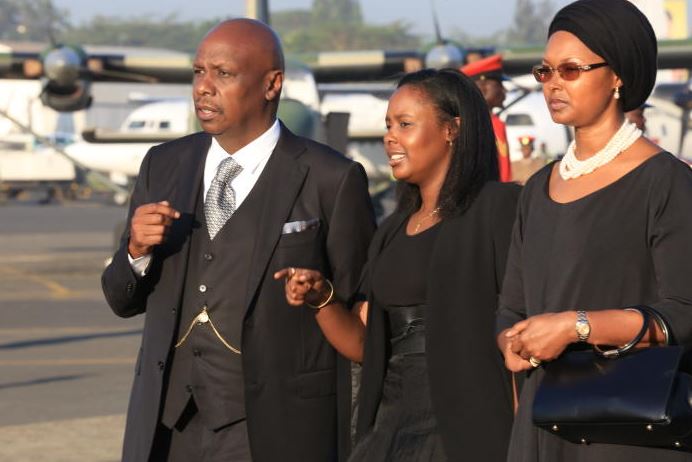 Kenya
Gideon Moi recounted to thousands of mourners how he endured long hours at the Nairobi Hospital watching over his ailing father.
Baringo Senator Gideon Moi recalled how he spent four months in hospital with his father. Yesterday, during former President Daniel Moi's burial in Kabarak, Gideon's recollections were often punctuated by humorous interludes. He recounted to thousands of mourners how he endured long hours at the Nairobi Hospital watching over his ailing father. The senator said that accompanied by his wife Zahra, he ensured that he monitored the condition of the former president on a daily basis.
SEE ALSO: ODM: Handshake still intact
He said Moi's life ended at 5.20am as he watched. Gideon explained how the loss of their father was a devastating blow to the family, having been its pillar. "Losing a parent can be very emotionally devastating, numbing and energy sapping. By according Mzee a State burial, you allowed us time to mourn and digest what has happened. We are grateful," Gideon told President Uhuru Kenyatta. He noted that during the time his father was unwell, he would arrive at the hospital in the morning and spend some time with him. He would again come back in the evening and leave past midnight as doctors attended to the former president.
SEE ALSO: Gideon calls for more measures to safeguard commuters
"I was there for four months. Due to this, I became like a doctor. I interacted with health personnel so much that I now know medical terms and even prescriptions," joked Gideon.
Prescribe drugs
"Mr President, right now I can prescribe some five milligrams of something for Deputy President Ruto. I can prescribe prayers for Madame Racheal (Ruto) …." Gideon acknowledged the role played by Uhuru during Moi's sickness, and the government's efforts during the mourning period. "As a family, we are greatly indebted to your government for its profound assistance since Mzee left us," said Gideon.
SEE ALSO: Gideon Moi: Give matatu crew hygiene training to fight coronavirus
"The government took over everything. Government officials came to console us and we are grateful." Gideon said the Moi family was moved by Uhuru's sister Christina Pratt's gesture of visiting Moi in hospital while she was still recuperating after undergoing surgery. "Can you imagine Christina, who was in the same hospital after undergoing an operation, came to see us after learning what had happened," said Gideon. "She was still in pain but she consoled us. Your mother, Mama Ngina Kenyatta, also called me." He also thanked churches for standing with the family, and the military for the rites they had conducted during the entire mourning period.