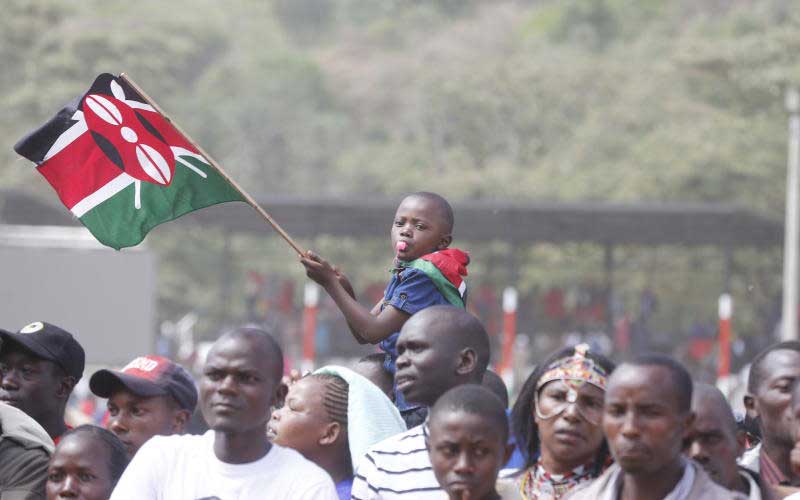 Kenya
Gap between the haves and have-nots has continued to widen
After the country nearly slid into anarchy in 2008 following the chaotic presidential elections a year earlier, Kenyans moved into a new decade eager for a fresh start. In 2010, they crafted a new social contract, a constitution hailed by pundits as one of the most progressive. Wananchi hoped the supreme law would help bind the wounds of the post-election violence that had pricked the moral conscience of the nation and left the economic landscape in a shambles. The new Constitution expanded the Bill of Rights and sought to move more power and resources from the centre to far-flung parts of the country that had been marginalised for years.
SEE ALSO: Dilemma of reopening the economy as record 123 test positive for virus
But events of the period between 2010 and 2019 would put the spirit of the new Constitution to the test, so much so that as the decade has come to a close, there has been talk of amending the supreme law. It was a case of musical chairs as provinces gave way to counties. Were the devolved units independent enough? Was there a need for a bicameral Parliament? Was it corruption, rather than resources, that was devolved? Optimistic about the experiment that was the building the country, Kenyans hoped that if the spirit of the Constitution were kept alive, and vices such as tribalism, wanton greed and graft kept at bay, the dream of the country's founders – a people at peace with each other, prosperous and united – would be attained. In their own way, Kenyans from all walks of life endeavoured to change the configuration of the previous decade. And change it they did, for worse in some instances, for better in others.
SEE ALSO: WHO: Reopen economy but...
This past decade marked a time when Kenyans experimented with a cocktail of new ideas and new discourses. That they were religious did not stop them from being inquisitive about the course that the church had taken. It was also the decade of the Internet. The number of people with access to it exploded from 1.5 million in 2009 to 45 million. Now, nearly anything is just a click away. Campaigns – political and social – were run on social media. Political gatherings and markets increasingly moved online. Kenyans sparred on Twitter, Facebook and WhatsApp, not with fists and arrows and stones, but with memes and hashtags. Social media turned into a platform for convergence of opinions as much as one for divergence. And in the decade's two general elections in 2013 and 2017, the tallying of votes was done electronically – though experts insist this does not mean there is such a thing as electronic voting in Kenya as a voter has to physically cast their vote at a polling station.
SEE ALSO: We should consider many things before reopening the economy — AMREF CEO Dr Githinji Gitahi
The government also migrated most of its services to digital platforms, chief among them e-Citizen.
Digital economy
The Internet also profoundly impacted romance. Dating went online, with the term 'sexting' joining the ever-expanding online jargon. You can now order your lunch from the comfort of your workstation, hail a taxi from anywhere, set up a shop online or file taxes without visiting a government office. This past decade truly birthed the digital economy. Cash remained king, but you could avoid walking around with cash. M-Pesa made historic impact in the financial sector, as banks and other new financial players found a way to co-exist with the mobile money transfer service.
SEE ALSO: New ways to survive virus crisis
It was a decade of convenience, or what economists would call an improved standard of living. Late for an appointment? Dial a boda boda? Run out of power tokens? Buy new units from you mobile phone. Don't have money in your bank account? Apply for a loan from your mobile phone and pay it back in 30 days. Kenyans bid analogue goodbye and welcomed digital, liberalising the title of media owner. It was the decade when Kenya's aspirational middle class emerged. Debatable as the subject of the middle class might be, the last 10 years saw the emergence of an educated Kenyan; those with plans to own a home, car and get health cover for their children. They want their children to attend good schools. These, as experts would say, are the hallmarks of a middle class citizen. Stark symbol and middle class tastes have been changing. It used to be that a middle class Kenyan went to work in a matatu, today they flaunt a blue Subaru. Jameson used to be their favourite whiskey, but they have moved on to Jack Daniel's. They want to build their homes in the outskirts of the city rather than live in rented flats. The stark symbol of growing consumerism in Kenya in the last 10 years has been the mall. Where there were only a handful of malls – Westgate, Yaya Centre, Village Market and Sarit Centre, Nairobi City was suddenly 'over-malled.' New ones such as Garden City, Two Rivers Mall, The Hub Karen Mall, Waterfront and many others came up.
SEE ALSO: Tough times drive city folk to sell fresh food from their cars
The malls attracted such international brands like American fast-food restaurant KFC, French retail giant Carrefour, and South African supermarket Shoprite. Sold in these malls are luxury products that had long been left to the rich – Prada, Gucci, Louis Vuitton, Moet, and Hennessy. Posh cars – Bentleys, Porsches and Jaguar – have come to our roads. We also have fine hotels and lodges such as Finch Hattons and Mahali Mzuri. But don't be fooled. Poverty, inequality, ignorance and preventable diseases did not go away. A recent study by the World Bank shows that the country has the sixth highest number of poor people in the World, with 17.6 million Kenyans living below two dollars a day. The gap between the haves and have-nots has continued to widen. In the last 10 years, the country has been able to cut the number of people who live in abject poverty. Four out of every 10 Kenyans still struggle to put food on the table. For every 1,000 children that are born alive, 35 die before they celebrate their first birthday, compared to a global average of 28, according to World Bank data. Kenya might have made signifi cant strides in the ease of doing business ranking, but the country is yet to improve on Transparency International's Index on the perception of corruption. With most Kenyans paying for their hospital bills from the pocket, a majority of them, regardless of their economic standing, are simply a disease-away from poverty. Though the coverage of the National Hospital Insurance Fund has improved tremendously, health facilities have not. Despite increased financial inclusion, more Kenyans still borrow from the local kiosk.