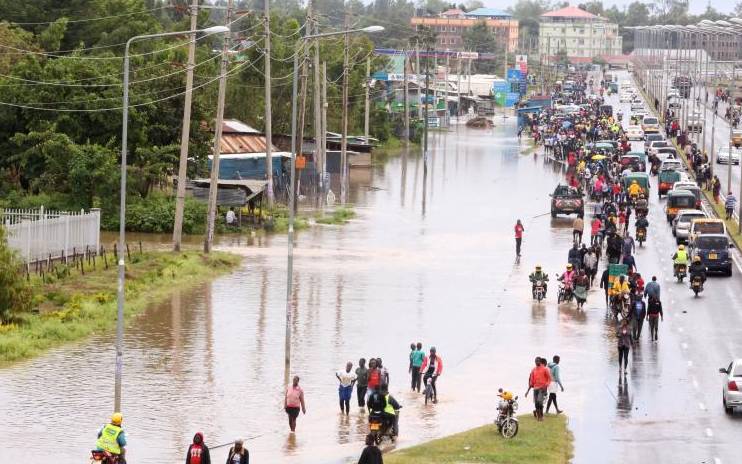 Two people have been swept away by raging waters in fresh floods that have ruined Christmas mood in Kisumu County, raising the death toll to six across Nyanza within just two weeks. Raging floodwaters, triggered by a heavy downpour on Christmas night submerged homes in Kibos, Nyalenda, and Manyatta, where residents were left counting loses yesterday morning. The worst-hit included Nyamasaria, Manyatta and Kibos market centres and their surroundings. The floods that marooned several houses and also left business premises destroyed and trees uprooted by a raging storm.
SEE ALSO: Health workers lock horns with Governor Nyong'o
The Kenya Ports Authority stationed in Kibos was rendered inaccessible, with floodwaters filling the compound and the offices. Business at a major gas filling station located next to the institution was grounded as their vehicles and filling equipment were submerged. At Nyamasaria market centre, traders arrived yesterday morning to find their shops filled with water and their wares swept away by raging floods. "I am stranded. All my goods are gone," said a shopkeeper Maryane Akwany, tears flowing down her cheeks uncontrollably. Kisumu County Commissioner Susan Waweru confirmed they had received reports of death and massive destruction of property following the disaster.
SEE ALSO: Shock as mother plunges children, herself into river
"My officers are on the ground to verify the reports and to coordinate intervention measures," said Ms Waweru. Kisumu County Red Cross Coordinator George Opidi said more than 500 families were affected by the fresh floods. "The situation is very serious because the waters came in the night. In the process it severely affected the people," he confirmed. Before the Christmas, normalcy had begun to return as the flood water levels had gone down. Some of those who were staying in evacuation camps had even started to go back to their homes. The fresh floods however came as a shocker, abruptly changing the Christmas mood from excitement and happiness to anxiety and gloom.
SEE ALSO: 50 dead in Japan floods as rescuers 'race against time'
At the Osodo Primary School in Karachuonyo Homa Bay County, over 2,500 people displaced by floods were facing a humanitarian crisis after they ran out of food. Women are sitting in the hall, clutching their chins and wondering where the next meal will come from. Many of them slept hungry, having given the little food rations to their children. Pit latrines were overflowing and clean water had run out. The 2,500 displaced were yesterday hungry that the County government was yet to deliver the Sh 2m worth of food promised by Governor Cyprian Awiti last week. Some of the mothers are breastfeeding their newborn babies, while shielding them from the cold. Their husbands and grown-up children are already out of the camp looking for food from well-wishers. The County's Director of Disaster Management, Eliud Onyango confirmed the campsite was in a crisis but said the Sh2 million promised by the Governor would be delivered within the next few days. Among those at the camp are 17 pregnant mothers, old men and women and the sick. Inside the camp, there are ten small-sized classrooms where each is occupied by 20 women with a number of children. In the congested classrooms, mats are spread all over with no nets as occupants reported Malaria outbreak in a camp that is hosting 2400 residents. Juliet Akoth is one of the victims. She was holding her nine-month-old daughter who is malnourished going without proper feeding. "We live by the grace of God. All was well until the floods destroyed all we had at home three weeks ago, we camped here but the situation is getting worse each day," said Akoth. Japheth Okello, 70, who is living with disability recalls the night when the raging floods woke him from sleep in the middle of the night. Okello suffered from leprosy 15 years ago: "I could not move or do anything, my house was filled with water, I called for help, but it was until morning when I was saved," Okello narrated. He said his neighbors used a boat to take him to the camp, but did not salvage anything from his house. The camp manager Kennedy Ochola reported that the camp has newborn babies who are up to three weeks old yet there are no drugs.
The Standard
established that those in the camp are suffering from infectious diseases such as cough. There is also rampant malarial and diarrhea cases. Those in the camp, live in perpetual fear of invasion by snakes. The nearest health facility -Osodo Dispensary is about five kilometers from the camp and roads are almost impassable. The health facility has no power after poles used in supplying electricity fell due to uncontrolled sand harvesting in the area. Ochola revealed that due to the population pressure, the school toilets have been filled up in addition to increased water levels, a situation that has been contributed to the cases of diarrhea reported. "We don't have drinking water since the tanks have been emptied the wells that we depend on for clean water have been filled with dirty flooding water," Ochola said.