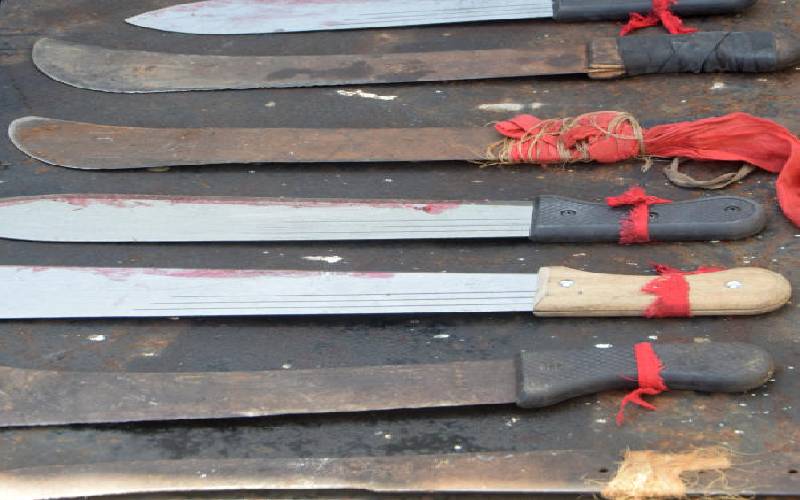 In yet another gang attack, at least 10 people were seriously injured in Kisauni, Mombasa County, on Sunday. Witness accounts point an accusing finger at a group of rowdy youths who call themselves the '86 battalion'. The attack came barely two weeks after students of the Technical University of Mombasa in Kisauni were attacked by machete-wielding youths, who injured eight of them. In June this year, a group of 15 armed youths were captured on a closed-circuit television camera when they raided a shop and indiscriminately attacked people. Just like the others, the attack was in Kisauni.
SEE ALSO: 15 girls pregnant, married off during Covid-19 period
In August, a group of 30 youngsters calling themselves 'Wakali Kwanza group' terrorised a village, also in Kisauni, for three hours. They attacked, slashed people and had all the time to steal and cart away goods stolen from shops and a supermarket. In that attack, several people were seriously injured. Such brazen attacks are an indictment of the Police Service. Indeed, in all the reported cases of gang attacks in Kisauni, residents have repeatedly complained of the absence of security officers while the gangs terrorised residents. This is the opposite of what citizens expect of the police and other security agencies, especially at the Coast where the problem of drugs and youth indoctrination by terrorist groups has been of great concern for years. The importance of the Coast region as an economic and tourist hub cannot be gainsaid, yet lacklustre security in the region threatens gains that accrue from that pole position. It cannot have escaped authorities so soon that the insecurity witnessed in the Coast region in 2015 through to 2018 resulted in Western countries issuing travel advisories that nearly brought our tourism industry to its knees.
SEE ALSO: Over 1,000 litres of expired cooking oil seized in Mombasa, suspected arrested
We cannot afford a repeat of such in the wake of the government's commitment to the Big Four agenda. On a number of occasions, top officials from the Interior ministry have visited the region to assess the security, but nothing has changed for the better. In August, Interior Cabinet Secretary Fred Matiang'i was at the Coast where he promised action and made some changes in the security apparatus. But the changes have yielded little if any positive results, considering the latest attack. Much is expected of the police, but those in the Coast region have fallen short of expectations. Residents of the coastal region need new brooms that will, hopefully, sweep better. That calls for an overhaul of the entire police structure in the area.