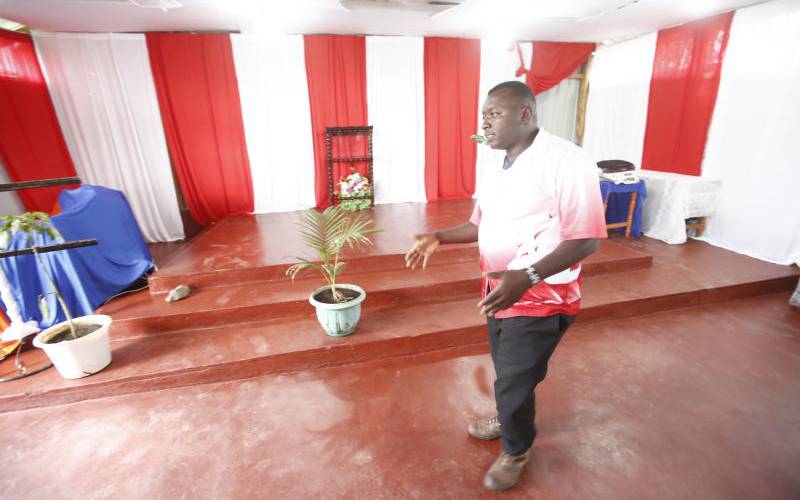 Police in Nakuru and Nyandarua counties are investigating a string of burglaries in at least 13 churches in the last two months. So far, clerics from ten churches have filed complaints with police in Nakuru while three other churches have made similar complaints in Nyandarua. Nakuru police commandant Stephen Matu said they have launched investigations. "We are aware of the emerging challenge facing churches. This is definitely the work of a gang that thinks it is easy to steal from churches at night. But we will deal with them," Mr Matu said.
SEE ALSO: They asked me to choose how I wanted to die: A woman's ordeal
The police boss noted that most of the burglars were targeting churches that do not have security at night. Matu said they arrested three suspects on Sunday morning after getting a tip-off from the congregation at St Joseph The Worker Catholic Church in Racecourse estate. The police and church leader Vincent Mboga said the men were hiding machetes and hand-axes under their jackets. "They came for the 7am Mass, but they looked suspicious. They were stopped by guards at the gate to be frisked, but they defied the order and forced their way into the church," Mr Mboga said. The police boss said they were holding the suspects at the Bondeni Police Station to establish whether they were a security risk.
SEE ALSO: 'Killer' mother unfit to stand trial
"The suspects are giving us information. We are treating this issue seriously," he said. In the other incidents of theft that still remain unsolved, the criminals have been stealing percussion instruments, sound systems and in some instances, hymn books. Last week, the clergy in Nyandarua protested over increased cases of insecurity and burglary. The clergies led by Isaac Njuru of the Akorinu Church and Isaac Mwangi of Victory Assurance Chapel Church lodged a complaint at the Nyahururu Police Station. Some of the other churches that have reported break-ins include Nyahururu Anglican Church of Kenya (ACK), Christian Gospel Church and United Fellowship Centre.
CHURCH ELECTRONICS
SEE ALSO: Man held for defiling a 10-year-old
The thieves stole electronic equipment and the offertory. "There could be a syndicate of criminals targeting church electronics like public address systems, TVs and sound amplifiers, among other altar items," said Pastor Mwangi. Nyahururu police commander Geoffrey Mayek assured the clergy that they were conducting investigations to establish the identities of the criminals. On October 11, burglars broke into the Full Gospel Churches of Kenya in Bahati and stole musical instruments, a microphone and DVD player, all valued at Sh20,000. "We are yet to come to terms with how the criminals got away with our musical equipment. How daring are these thieves to steal from God?" posed Moses Kariuki, a church deacon. The incident was reported at the Karunga Police Station located 100 metres away. At the station, the church administrators wrote a statement but were not issued with an Occurrence Book (OB) number. The suspects are still at large. Mr Kariuki said he suspected that the stolen items, especially the music instruments, ended up in a night club. "There has been a high demand for public address systems for functions like weddings, funerals and fundraisers, among others," he said. The deacon revealed that charges for hiring a public address system in the area range from between Sh5,000 and Sh10,000. Congregants in the nearby African Inland Church Amani are still devastated after a burglary on the night of October 18. The thieves, who it is believed were armed with crude weapons, broke a metal grill to gain access into the church. They stole two speakers valued at Sh40,000, a music mixer bought for Sh40,000, a keyboard valued at Sh40,000, two microphones worth Sh2,000 each and a music transmitter valued at Sh15,000. They broke into the offertory box but did not find any money. They later escaped through the church door after breaking the lock. "The criminals must have taken their time in the church disassembling equipment before taking off through the main door. We lost instruments valued at more than Sh100,000," said Eliud Kirubi, a church elder.
God's dwelling
Grace Empowerment Centre also lost music instruments valued at between Sh80,000 and Sh100,000 after the church was broken into on August 8 at around 7.30pm. Martha Mwangi, a church official, said the thieves also broke into the caretaker's house where they stole a mobile phone valued at Sh34,000, bed sheets, shoes and clothes. "Don't people respect God's dwelling place? Can we not respect the house of God that has an altar that carries the ten commandments?" Rev Mwangi posed. The crime was reported at Kaptembwo Police Station, but the items are yet to be recovered. No suspect has been arrested. On August 6, the daring criminals broke into Jerusalem Parish where at least 350 Sudanese nationals worship and stole church items valued at Sh100,000. Alier Juma Mach, a member of the church located in Racecourse estate, said the thieves broke the lock and stole speakers, microphones and a keyboard. "This is a new phenomenon we have never encountered in ten years since the establishment of the church," said Mach.