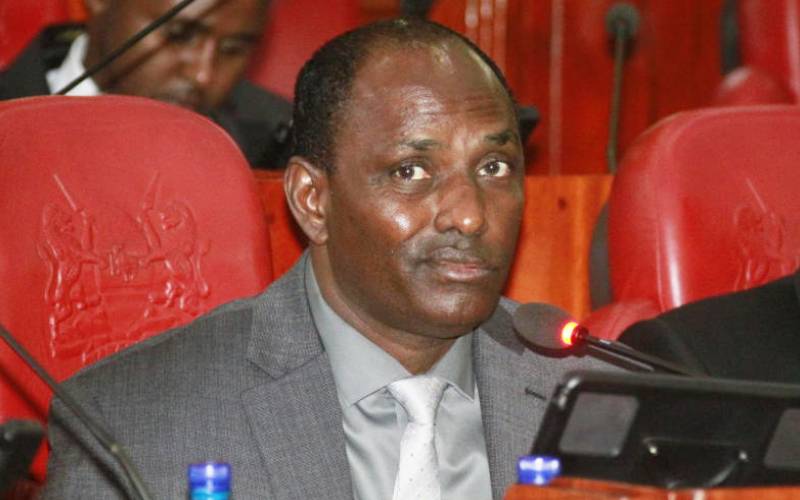 Acting National Treasury Cabinet Secretary Ukur Yatani has the unenviable task of cleaning up Jubilee's fiscal mess. Since his appointment, he has been on a mission to impose austerity. However, he might run afoul of the Constitution. Only Parliament has the power to appropriate funds, after which the Executive has no authority to unilaterally cut budgets without legislative approval. In other words, for the Treasury's proposed austerity measures to take effect, they must be approved by Parliament. Besides, the constitutional questions raised by the impending austerity measures, we must also address why we got here in the first place. Since 2013, the Jubilee government has embarked on a spending (and stealing) spree. Yet, as the Governor of the Central Bank recently noted, the high levels of spending have not translated into tangible growth "on the ground." The reason Kenyans are not feeling the economic expansion is obvious: much of it is driven by public infrastructure expenditure that cares little about domestic production but targets mythical "foreign investors".
SEE ALSO: IMF backs move to waive fees for small transactions
And so, mounting debt levels are not being offset by increased revenue generation. As such, we are headed for a double tragedy of austerity measures in the middle of a sluggish economy. The bits of government spending that actually touch the common Mwananchi will be cut. And with that, the economy will likely contract more. Could we have avoided this boom-bust cycle in spending? The simple answer is yes. One of the key differences between well-governed and ill-governed countries is in the levels of stability of fiscal outlays over time and associated economic growth. Countries in the former category typically have steady growth on the back of rational public policy-making. They spend money to shore up economies during bad times and reduce spending during good times. Those in the latter category, with contemporary Kenya being a prime example, tend to go through periods of living high, followed by extremely lean periods. They tend to create value in boom times (think the Kibaki era), only to destroy it during periods of economic mismanagement and decline (think the current Jubilee Administration). Consider your typical hardworking small business owner who took out a loan during the Kibaki years to expand her operations. Under Kibaki and in the first few years of Jubilee's tenure, this businesswoman may have seen benefits of her risk-taking. The high demand may have prompted her to take on another loan. Then Jubileenomics hit.
SEE ALSO: MP urges State to stop force removals
Runaway borrowing, obscene theft, incoherent procurement-driven policymaking, and mounting public debt all conspired to produce a slugging economy. Now consumer demand has reduced to a trickle, even as the KRA tightens the screws on the businesswoman, demanding an ever-bigger share of her cash flow. Loan default is likely to follow. Value and livelihoods will be destroyed. Of course, people go out of business all the time. But the right way for that to happen ought to be through creative destruction. It would be fine if our hypothetical businesswoman was driven out of business by more efficient competition. Instead, she was driven out of business by the failure of Treasury and State House to plan ahead. We are not in the middle of a major unforeseen economic shock. Everything that is currently ailing the economy is of Jubilee's doing. And all Kenyans know it. - The writer is an Assistant Professor at Georgetown University
SEE ALSO: There are gains, dilemma in coffee reforms and more can be done