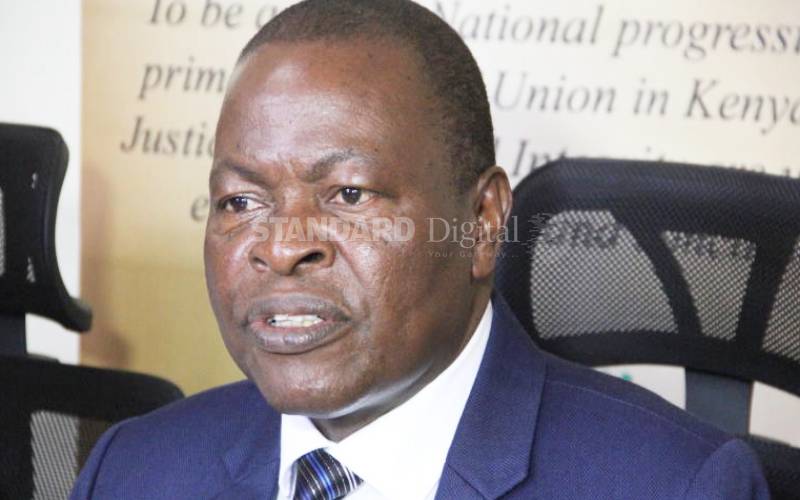 Education
He said the online registration had ensured transparency in the recruitment of new members.
A teachers' union has proposed a new structure for teachers' house allowance. Kenya Union of Post Education Teachers (Kuppet) wants the Government to adopt a new formula where all teachers are paid a uniform house allowance. This is a departure from the current situation where teachers are paid according to where they have been posted, with those in urban areas earning higher allowances. Speaking in Murang'a, Kuppet Secretary General Akelo Misori said a uniform allowance would end the current discriminatory scheme.
SEE ALSO: TSC pleads for more cash to hire teachers
"The proposal on harmonised house allowance is contained in the Collective Bargain Agreement 2021-2025," said Mr Misori. The union boss, also revealed that Kuppet would register secondary and post primary education teachers within its ranks, including those in tertiary institutions. "Knut will be left to register teachers in primary and nursery schools. Uasu will recruit members from universities, while Kuppet will have members from secondary school and colleges within its ranks," said Misori. Murang'a branch Kuppet Executive Secretary Mburu Mwangi said the union was pushing for science teachers to be paid a risk allowance; for the potential threats they face when handling chemicals. Mr Mwangi averred that teachers had suffered for long, by being exposed to lethal chemicals in the course of their duty, and deserved a risk allowance.
SEE ALSO: Kuppet differs with Knut, parents over opening date
"A risk allowance is among the many things the union is working to achieve for the benefit of its members," said Mwangi. Kuppet treasurer Njenga Muethi praised the Teachers Service Commission for pushing the proposal to have teachers register in unions through an online platform. He said the online registration had ensured transparency in the recruitment of new members. "Presently, our members apply on our online platform. The manual system was being abused with some members being poached. The online one has avoided such problems," said Njenga.