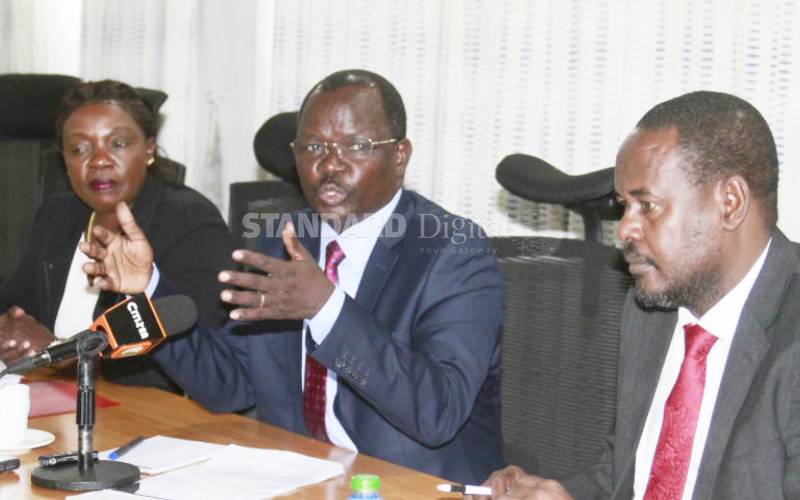 West Pokot Governor John Lonyangapuo told a parliamentary committee that he has no powers to force his absent Deputy Governor Nicholas Atudonyang back in the country. Asked if he would provide the committee with Dr Atudonyang's contacts in Texas, United States, for the Senate to summon him to appear and explain why he was not working, Prof Lonyangapuo said he could only provide them with his WhatsApp line. "That is what the professor uses to reach the doctor in Texas. Mr Chairman, I can only give you that WhatsApp line," the governor said as those in the committee room burst into laughter. Prof Lonyangapuo was even comical as he made light calls by Senate committee members to get a substantive replacement for Dr Atudonyang as he has proved to be too busy to serve in Kenya.
SEE ALSO: Morocco used NSO's spyware to spy on journalist, Amnesty says
"If you look at it differently, this is even profitable to us because through his absence we have received medical equipment worth millions. We have even donated some of them to our neighbouring counties because we cannot use all of them," he said. Lonyangapuo said through Dr Atudonyang's networks in the USA, the county had received medical equipment worth more than Sh150 million, for which they paid only Sh3 million in freight fees. And when nominated Senator Rose Nyamunga requested that the governor to provide money to facilitate one senator to accompany him to USA to find out from the deputy governor if he was still interested in the job, Lonyangapuo quipped: "Parliament is funded to go anywhere. You can even go and question someone in the moon. We cannot give you money". After the last General Election, Dr Atudonyang flew back to Texas, USA, where he had been working as a neurosurgeon for 15 year. The governor said he had reached an agreement with the deputy governor that the county terminates his salary as he was spending too much time out of office.
SEE ALSO: WhatsApp's new payments system suspended
However, Lonyangapuo said this was the much he could do since he did not have powers to sack him. "Sadly I cannot sack him. He remains elected and there is a process of removing a deputy governor and even governors," he said. But there was a plea by committee chairman John Kinyua (Laikipia) to request Atudonyang to resign voluntarily even if he was no longer drawing a salary from the county coffers. "I am not comfortable without him, but there is nothing I can do about it. I cannot climb a tree and shout loud that you come back now, you need to be working," said Lonyangapuo, causing prolonged laughter among committee members. "The last time he was around was at the end of December. He went back and in April. When he was supposed to return with two consignments of laptops, he had personal problems, including getting a pre-mature baby and he also fell sick," said Lonyangapuo.
SEE ALSO: Facebook Pay launches in Brazil, eyes M-Pesa users