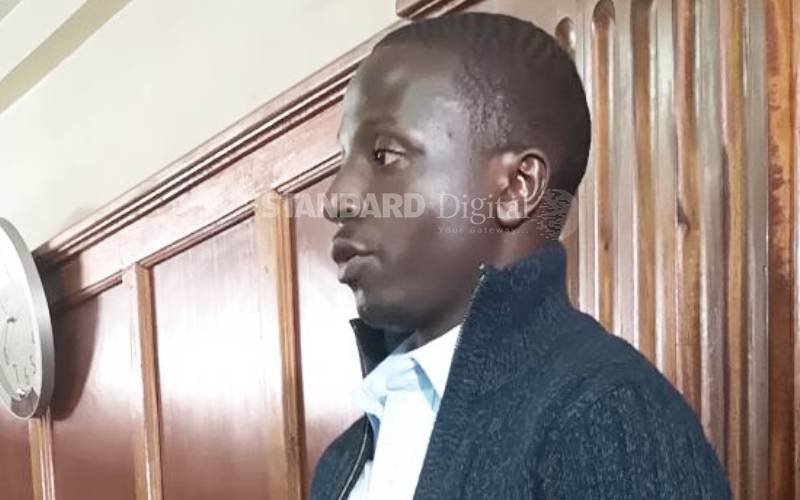 Nairobi
Muriungi told the court that he had lost his ID in January 2016.
A man whose Identity Card number was used to register a mobile phone line used by a suspect in the killing of lawyer Willie Kimani and his two associates has dismissed suggestions he could be the missing killer gang member. Moses Muriungi, a Kenya Railways employee, refuted claim he could be the sergeant Kamenju — a police officer placed in the murder scene in a confession by police informer Peter Ngugi. Defence lawyer Cliff Ombeta had asked Mr Muriungi whether he was the 'ghost' officer, as the said Kamenju has never been found since 2016 when Kimani, his client Josephat Mwenda and taxi driver Joseph Muiruri, were killed. Although adversely mentioned by Ngugi, the said Kamenju is not among the accused on trial for the June 23, 2016, murders. Yesterday, Muriungi was put to task on his whereabouts on June 22, 2019, when his ID card number was used to register the Airtel line used by Ngugi who was tasked to trail Mwenda from Mavoko law court the following day when the court has heard they were strangled at a thicket in Mlolongo. The witness told the court that at that time, he was working with Clovers Management consultants, a firm which had a contract with Barclays Bank. Muriungi told the court that he had lost his ID in January 2016. The SIM card registered under his ID was used by Ngugi to communicate with AP officer Fredrick Leliman on the day the trio were killed. On June 22, 2016, a day before the death plot was executed, Ngugi met with Leliman at Connection's Bar in Mlolongo and gave him a mobile phone which he would use to communicate. It had an Airtel line. Investigators led by Clement Mwangi went after the ID which was used to register the line. This was done two months ago, July 12, 2019 and the ID was found to belong to Muriungi. Yesterday, Muriungi explained he only learnt of his ID's connection to the murders when a detective summoned him for questioning. "On July 11, 2019, while working at Kenya Railways Nairobi Terminus, I received a call from a man who identified himself as Clement Mwangi, a police officer. He told me he was investigating a crime and through his investigations, he discovered that a mobile number which had been registered using my ID, had been used to commit a crime," testified Muriungi. Muriungi was called as an extra witness in the trial and he told the court that sometime in January 2016, he lost his ID which he reported to the police at Mlolongo. The officer manning the station, he said, advised him to get an abstract and an ID from Huduma Centre.
City Square
Justice Jessie Lesiit heard that Muriungi proceeded to City Square post office and applied for a new ID. The new ID lasted for two years, until September 2018, when he was allegedly mugged. He again went to City Square and applied for another ID which he has been using to date. Muriungi testified that he never registered the Airtel line and did not give his ID to anyone else. He said that he never recovered his two lost IDs. Ngugi had told investigators that Kamenju is a tall, massively built man with a slightly dark complexion. In his confession filed in court on Monday, Kamenju is likely a Meru from his accent. According to Ngugi, Kamenju had a Toyota NZE bearing registration KBU. Yesterday, Kareithi told court that the name Kamenju is a Meru name given to males. The court heard that Kamenju came into the picture first at Syokimau Police Post. He had been called by Leliman at around 7pm through his mobile phone, requiring that they meet at Syokimau Police Station. Ngugi in his confession narrated that Kamenju also returned a call to Leliman informing him that he was already at the station. Another lead to Kamenju was a mobile phone he carried at the murder scene. According to Ngugi, another police officer who was in company of several civilians came to inquire what the killer team was doing in the bushes. Kamenju, the court heard, had a phone and he told the officer that they were his colleagues who were on duty. Ngugi also recalled that Kamenju at the time was wearing an Administration Police trousers uniform which had side pockets. The last link to the mystery officer was his idea to dump the bodies at Ol Donyo Sabuk. He had explained to the team that he knew the area as he had previously been posted there. "Kamenju who claimed to have in the past worked in Ol Donyo Sabuk AP Camp, was to lead the way apparently because he knew the area better and, therefore, conversant and equally better to assist in the disposal of bodies," Ngugi's statement read. Meanwhile, Ngugi will today battle the prosecution on production of a video where he explained what happened. Police officer Joseph Muindi told the court that Ngugi took them to the six scenes of crime, explaining in each of them what happened. Ngugi's lawyer Kevin Michuki told the judge that the videos would be against his right not to incriminate himself. Ngugi and Leliman were charged alongside police officers Stephen Cheburet, Sylvia Wanjiku and Leonard Mwangi.