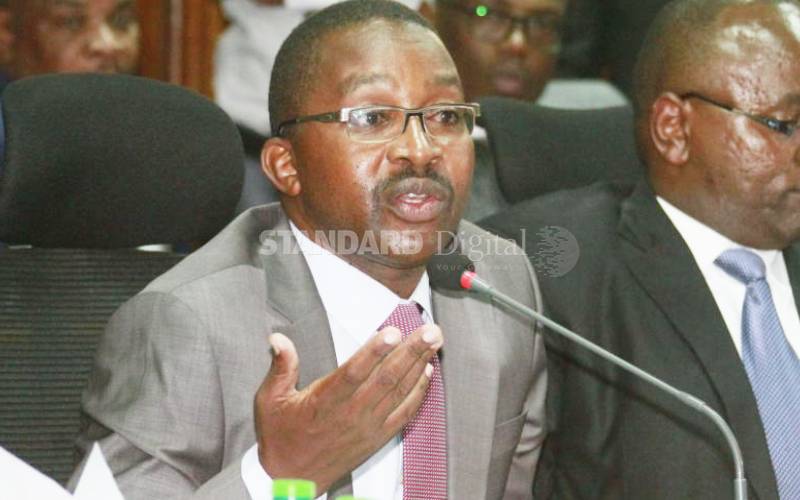 Nairobi
The court heard that Kihiu Mwiri, located in Murang'a County, was claimed by at least 3,507 members.
The Directorate of Criminal Investigations (DCI) will reopen investigations into killings that rocked an expansive farm in Murang'a. DCI boss George Kinoti yesterday said a fresh probe was underway following a High Court judgment resulting from shoddy police investigations into murders that plagued Kihiu Mwiri. "It is a case I felt from the word go that something not right was hovering. We are still on it. It doesn't matter how long. We will ensure justice," said Mr Kinoti. The DCI spoke as it emerged that a Cabinet secretary and governor were among individuals named in court as having benefited from land excised from a farm that was plagued by killings in Murang'a.
SEE ALSO: How criminals are using online learning to lure your children for exploitation
Witnesses linked Transport Secretary James Macharia to a company whose contested purchase of land in Kihiu Mwiri, they claimed, fueled violence intended to silence opposition to the alleged illegal acquisition of part of the 1,288 acres owned by Kihiu Mwiri Farmers Company. Murang'a Governor Mwangi wa Iria was also named among top regional officials who allegedly got parcels in the expansive farm, which has been rocked by violence that has seen 10 company directors killed and at least five people "disappear" in the last two decades.
Four directors
This is according to proceedings in a Kiambu court during the trial of suspects in the killing of four directors: Peter Kimani Kuria, Paul Muhuhi Bernard, Josphat Kibe Nyoike and Zakary Chege Kiratu. Muhuhi was killed on June 28, 2015. Kibe and Chege were killed on July 7, 2015 while Kimani, who was the firm's chairman, was eliminated on May 10, 2016. Initially, 18 suspects had been charged in September 2015, but 14 were set free. In July this year, High Court Judge Joel Ngugi acquitted the last four and termed their murder trial "a window-dressing exercise" by the State.
SEE ALSO: DCI officer arrested for allegedly raping woman in police cell
At the heart of the case was Breeze Limited, which a witness said had bought land from a Kihiu Mwiri splinter group, sparking off the deadly dispute. The court heard that Kihiu Mwiri, located in Murang'a County, was claimed by at least 3,507 members. Justice Ngugi was told the land had been bought from white settlers by their employees in 1973. In 1978, the court heard, the workers started to trade in coffee. During an annual general meeting held at Thika Stadium in 2011, it was agreed that then chairman Peter Kariuki Macharia should step down for Kimani. This after it was alleged that Kariuki was not a
bona fide
member of the land company.
Splinter groups
The court was told that Kariuki refused to hand over to Kimani, leading to the formation of two splinter groups - Ward Four and Kula na Kumaliza.
SEE ALSO: There is no choice; DPP and DCI must cooperate
According to witnesses, Ward Four was the problematic group behind the killings that would later rock Kihiu Mwiri. Kimani and his group, in the meantime, filed a case in the High Court and set up an office in Thika. A former clerk in the new office testified that problems started after officials in the rival Kariuki group advertised the sale of 240 acres, which was bought by Breeze Limited. The land was then renamed Breeze Farm. The witness said they learnt that the land was being sold for Sh87.3 million but in a later sale agreement, it was indicated that 134 acres had been sold for Sh37 million. This transaction aggrieved Kimani's group, which opposed the "unprocedural" sale.
SEE ALSO: Danger online as traffickers target helpless children
"Breeze (Farm) was sold illegally. Kimani told the people that the land had been fraudulently sold. Kimani, Muhuhi, Kibe and Chege were killed because of the Breeze land deal. This is because they demanded that the land be returned to members," the witness narrated. The witness was initially reluctant to name the company owners. "I know they are powerful people in Government. I think they are powerful because they never come to court whenever summoned. I cannot mention their names because they are powerful people." But when pressed, the witness told the court that Breeze was owned by the CS, lawyer Njoroge Kibatia and businessman John Njoroge Kapupa. "I know that Cabinet Secretary James Macharia was one of the owners of Breeze Farm. This is the name I didn't want to mention. I also met Njoroge Kapupa about the farm. These are the three people I know claim Breeze belongs to them."
SEE ALSO: DCI probes Nzoia bosses over Sh961k scandal
Justice Ngugi, in his judgment dated July 15, 2019, observed that the mention of the name Breeze terrified Kihiu Mwiri members. "They were terrified of mentioning the name and its owners or directors. Indeed, every time the issue came up, the witnesses requested in camera proceedings for fear of their lives and limbs," the judge said. The court heard that although Breeze was at the heart of the land dispute, there was no evidence that it financed the ensuing wars. "I am not aware whether it was the money from Breeze that caused the division between Kimani and Kariuki," a witness said, adding that the solution to end the acrimony was for the Government to step in and subdivide the land to its original owners. It also emerged that irregular allocations had happened for eight years, between 2005 and 2013. Some of those said to have benefited from the land were Mr Iria, former Murang'a County Commissioner Kula Hache and former Thika East District Commissioner Hamud Mohamed. Others were former Kakuzi Division Officer Lydia Mwinyi, area chief Stephen Chege and a ward representative only known as Ngugi. The court was told that Iria got 34 acres, Hache 40 acres, Hamud three-quarters of an acre, Mwinyi and Chege (one quarter-acre each) and Ngugi who got four quarter-acres. A witness said the buyers allegedly sold the land to third parties. The court heard that other unnamed senior politicians and businessmen in Kiambu County were also allocated land. "All these were not shareholders of Kihiu Mwiri. There are other senior people who got bigger plots than the typical shareholders, or they got parcels and they were not shareholders. There are also some people who bought parcels using fake certificates," a witness alleged. He continued: "The fake certificates were sold to rich people from Ruiru and Kiambu. This is what caused the killings in Kihiu Mwiri. Those who sold the fake certificates had to eliminate those who were opposed." It was also alleged that although Kihiu Mwiri members ought to have received at least a quarter-acre each, they ended up getting parcels measuring 40 metres by 60 metres. "Due to the involvement of Government officials, especially from the Ministry of Interior, a lot of criminal activities that were reported were not investigated. The county commissioner's office was heavily involved," the court was told. Murang'a police, it was claimed, also got involved in the bloody fight for the control of Kihiu Mwiri. A witness testified that he was planning to report those he thought were at the heart of the bloodshed to police officers in Gatanga but a police informant warned him that he would end up dead because the suspects were colluding with security agencies. Another witness disclosed that he conducted a search at the Registrar of Companies to find the owners of Breeze. He added that they sought the Government's intervention - including approaching then Directorate of Criminal Investigations (DCI) boss Ndegwa Muhoro - but no help was forthcoming.
Harambee House
He narrated that the matter was reported to the President's Office at Harambee House to an officer only named as Kamande. Justice Ngugi heard that the State answered members' pleas by sending surveyors to resolve the land demarcation problem. "The Government responded by sending surveyors but they were fraudulent. They did not do the surveys. They claimed to use data to allocate land but some titles were already out," the court heard. Another witness said that prior to the killings, an anonymous text message had been circulating among members, which said "seven heads were needed". Those who caused the havoc were also allegedly paid in cash. The court heard that the Kihiu Mwiri deaths affected the Kimani and Kariuki factions. A witness told the court he knew six people who were still missing. Some witnesses claimed each rival group wooed them to change camps. One told the court he was offered Sh300,000 to cross over to Kariuki's group, an offer he declined. "We reported and some people were arrested. They are 28 names but not all were arrested. We have never been able to do anything about the illegal allocations," a witness said. Those arrested and charged with the killing of the four directors were Joseph Thiong'o Waweru, Henry Ngugi Karuga alias Mwene Cio, Julius Kanyiri Wambui alias Kamurang'a, John Njorge Gacho alias Njilano, Harrison Kibande Marubu, Joseph Muchui Muiruri and Benard Murigi Karanja. Also charged was Josphat Macharia Marubu alias Kasee, Mary Mugechi Mburu alias Wamugechi, Joseph Nyamu Kago alias Kimangu, Patrick Ikuu Mugo, Samuel Ikuu Mugo and Peter Mburu Mungai. Others were Peter Murigi Ngige, Zackaria Ngaruiya Mutwe, John Kamau Kariuki, Simon Ngugi Gitahi and David Muiru Chomba. Justice Ngugi condemned the police for conducting shoddy investigations. "There is definitely much to be said about a plausible theory of the murders, which was seemingly neglected by the investigators. That the members of the Ministry of Interior working in the region, senior police officers and senior Government officials were heavily involved, and, indeed, may have funded the death and destruction that reigned in Kihiu Mwiri for almost a decade. "Evidence suggested that they did all that for land. Despite flakes and nuggets of this theory coming out from the prosecution witnesses, there does not appear to have been any efforts whatsoever to consider or pursue this theory," the judge said.