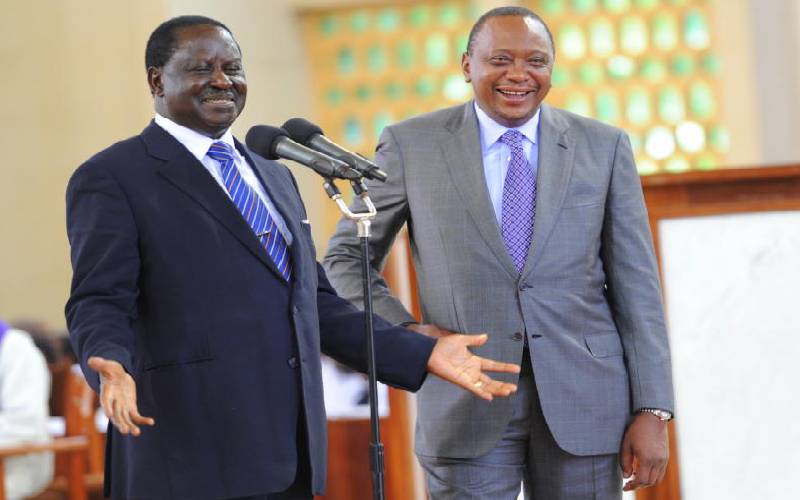 Columns
President Moi managed to consolidate the Kalenjin into a political force.
According to Ndindi Nyoro, Raila Odinga is preparing to run for president in 2022 and the political problems that the Kiharu MP faces are the result of the resistance that he, and others within the Mt Kenya region, are mounting against an Odinga candidature. What are the implications of an Odinga candidature on the Kikuyu nation? Odinga eventually emerged as the successor to the political mantle that was formerly held by his father, the late Jaramogi Oginga Odinga. That mantle was based on a view that, besides the Kikuyu nation, the Luo community was the only other ethnic political force in Kenya. As he was neither Kikuyu nor Luo, it was expected that Moi would not last when he took power in 1978. Moi became president as a Tugen, an ethnic minority that was too small to challenge the presumed big two. By the time he retired 24 years later, Moi was now identified as a Kalenjin. He had managed to consolidate the Kalenjin into a political force that now rivalled the big two. Deputy President, William Ruto, should be grateful that Moi created for him a political base that he would inherit and which he is now banking on in his horse trading. The emergence of the Kalenjin as a national political force came at the expense of the Luo nation. While Moi had managed power by cold -shouldering the Kikuyu and Luo, while courting the myriad small communities, his attempt to have Uhuru Kenyatta succeed him in 2002, overlooking a better-prepared Odinga, was an acknowledgement of Kikuyu hegemony that also furthered a prevalent myth that a Luo could never be president.
Exclusive claim
SEE ALSO: Has President Uhuru's Executive Order abolished joint Presidency?
A Kibaki presidency would be followed by that of Kenyatta, making it two Kikuyus in a row and disproving another myth that a Kikuyu could not succeed another. For a man who had spent so much energy repelling Kikuyu power, Moi's eventual choice of Kenyatta was a capitulation to that power. Although Kibaki was also Kikuyu, just like Kenyatta, Odinga's endorsement of a Kibaki candidature in 2002, a king-making gesture, was a repudiation of the idea that Kenya's only political destiny was Kikuyu hegemony. The broad-based support that emerged around Kibaki, and the reform platform on which his candidature was based, was supposed to override the parochial thinking that assigned political destiny to identity. When Kibaki's co-ethics soon asserted an exclusive claim to the new president, a disgruntled Odinga re-fashioned his politics around fighting Kikuyu hegemony, a platform onto which he recruited Ruto and on which he ran for president in 2007. In the last three elections, Odinga has been the candidate for small communities, the ones that previously supported Moi. In the process the Luo suffered relegation from the league of big communities. These communities share a fear of Kikuyu domination, against which Odinga is now seen as a guarantor. On the other hand, Odinga has suffered growing mistrust from the Kikuyu nation, a position that Kikuyu leaders have also actively encouraged. If Odinga is a candidate in 2022, he will need to address his complex relationship with the Kikuyu nation. Aware of the mistrust, he has sought to project himself favourably to the Kikuyu nation, invoking the loyalty and sacrifice that he, and his father before him, made to Kikuyu leaders. Odinga's chances with the Kikuyu nation will significantly depend on who else is on the ballot. In 2007, Deputy President, William Ruto, was a disciple of Odinga. Ruto has had his own difficulties with the Kikuyu, arising from the post-election violence which greatly affected the Kikuyu community in the Rift Valley. Despite the establishment of the Jubilee party, promoted as a cohesion platform for the Kikuyu and the Kalenjin, mistrust between the two has not completely been overcome. If it ends up that the choice is between Odinga and Ruto, the Kikuyu nation will be deciding between two people against whom they have had major differences during previous political seasons. At one level, such options would be an acknowledgment of the end of fine run that the region has had and that it is fine for Mt Kenya to produce two presidents in a row but not three.
SEE ALSO: MCAs blame Atwoli, Oparanya for Wetang'ula woes and Luhya division
The possibilities
If Mt Kenya ultimately embraces Odinga's candidature, it will be a replay of what Moi did to the Kikuyu. Having spent so much effort keeping the Kikuyu in check, Moi eventually wanted to hand the country to them. Having fought Odinga so hard, the Mt Kenya region would be handing the country to him. The possibilities about the future are bewildering and a reminder that Kenya's ethnic hatreds are neither ancient nor irreversible. What constitutes a big tribe has nothing to do with numbers. Rather, it is a contrived position to drive narratives that justify political domination. Kenya is in urgent need of an alternative basis for organising electoral politics, which moves away from identity.
- The writer is the executive director at KHRC. [email protected]