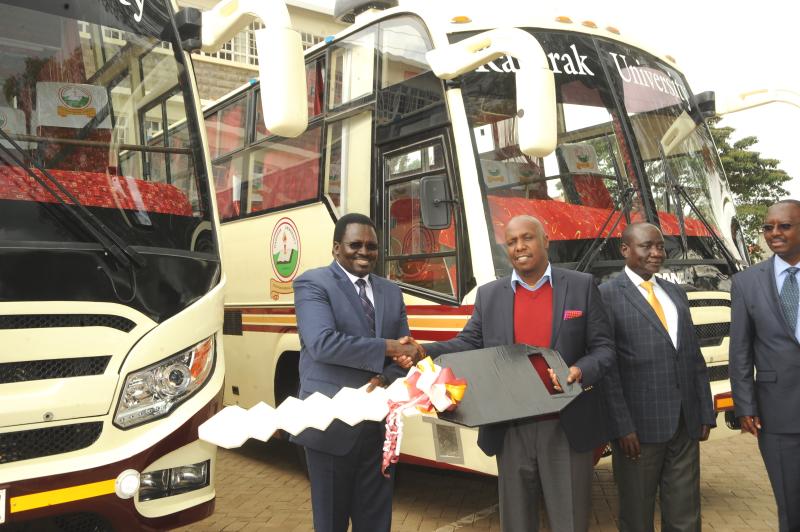 Education
Senator says ministry should ensure all courses offered in universities, colleges are certified.
Baringo Senator Gideon Moi has asked institutions of higher learning to ensure learners acquire skills needed in the job market. Gideon said this will ensure graduates come out of institutions with the right skills not only for potential employers but also ready to be job creators. "Institutions of higher learning should refine their training and ensure students are well-equipped with skills and knowledge to handle and provide solution to various challenges facing the country," said Gideon. The Kanu chairman said the Education ministry should also ensure all courses offered in universities and colleges are certified by Commission for University Education.
SEE ALSO: ODM: Handshake still intact
He said there are some courses that have been rendered irrelevant by the ministry due to lack of accreditation, an issue that affect learners who spend several years studying and using a lot of money. "We need a proper mechanism that will monitor what universities train learners to be in line with what is required by ministry. This will help avert cases of some students failing to register some courses," he said. The senator was speaking at Kabarak University during the handover of two new buses to help ease transportation of learners yesterday. He said he was impressed by the growth of the institution which has gradually improved since its inception. "Kabarak University has not only registered growth in student population, but in the number of courses offered and infrastructure," he said.
SEE ALSO: Gideon calls for more measures to safeguard commuters
The university which has student population of over 8,000, offers 79 accredited academic programmes with 26 rolled out since 2016. Among the accredited academic programmes are six PhD, 17 masters, 26 undergraduate, 26 diploma and four certificate programmes. He attributed increased enrollment and quality education at the institution to good management.
Quality education
The senator, also pro-chancellor, lauded former President Daniel Moi for his dedication in improving quality of education in the country.
SEE ALSO: Gideon Moi: Give matatu crew hygiene training to fight coronavirus
"I highly-acknowledge role played by former president that highly impacted in education sector. Moi had a love for the children and youth of this country, that is clearly manifested in number of learning institutions that were set up and also encouraging girls to study," he said. Further, he thanked Moi, who is the institution's chancellor, for establishing Kabarak University that acts as a centre of excellence, offering various courses to students from across the country. Also present during the event was Vice Chancellor Prof Henry Kiplagat who also applauded former president Moi for being a role model in enhancing quality education across the country. "I am humbled by commitment that was put in place by President Moi that was aimed at making Kabarak University a centre of excellence," he said. He noted that President Moi constructed several learning institutions including universities, colleges and polytechnics across the country.
SEE ALSO: State board seats lose colour in new cost cutting measures
"Learning is ongoing smoothly in institutions that he set up," he said.