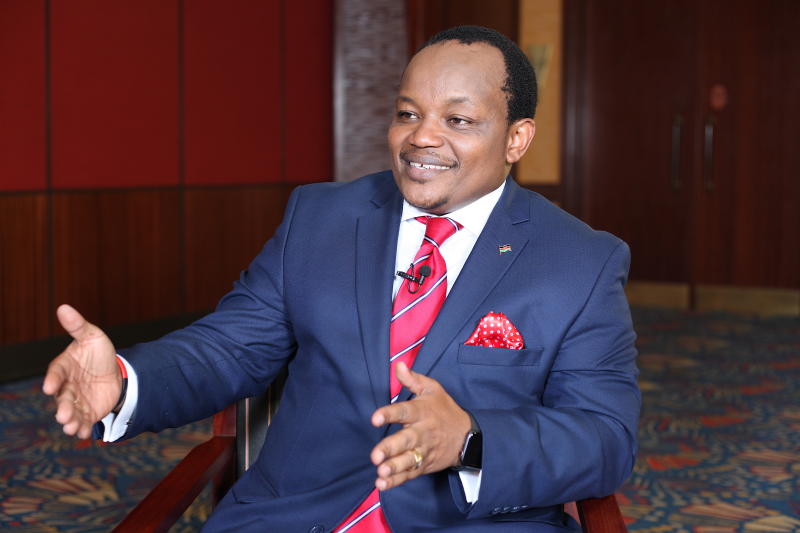 Kenya
"The romance broke when Ruto thought he was to get Central Province directly. It is not going to happen. Central has always operated around someone,"
President Uhuru Kenyatta was aware of meetings by Mt Kenya leaders to discuss the region's development before Deputy President William Ruto criminalised the forums, a legislator has claimed. Nyeri Town MP Ngunjiri Wambugu said claims that the meetings were to plot Dr Ruto's assassination were calculated to scare away participants and stall the roll-out of projects. "The Deputy President was trying to scuttle those meetings. He wanted people to be scared of going to meetings and talking about development of the region without him," Ngunjiri told Tony Gachoka during the Point Blank show on KTN News yesterday. Ngunjiri, who said he was handling the political agenda during the forums, dismissed as "complete rubbish" claims that Cabinet secretaries from the region had met at La Mada Hotel to plot to assassinate Ruto.
SEE ALSO: Hidden allure of one-party state in Uhuru's BBI agenda
The MP described Ruto's strategy as a "Machiavellian" ploy designed to deceive Mt Kenya voters that he was the only one capable of championing their cause by delivering development to the region. Ngunjiri, who leads a Jubilee faction opposed to Ruto's campaign for the presidency, vowed that they would not relent until the DP stops "blackmailing" Mt Kenya that the region owes him the top seat in 2022. The founder of the Kieleweke team said he was leading the rebellion because Ruto was forcing support from Mt Kenya without stating how the region stood to benefit, as well as undermining the President through premature campaigns. "It is how he is going about it. You cannot take the presidency in this country by force. That is what Ruto is trying to do. He is making it look like it is an indisputable fact.
Broken romance
SEE ALSO: Grim numbers that made Uhuru think twice on reopening
"The romance broke when Ruto thought he was to get Central Province directly. It is not going to happen. Central has always operated around someone," Ngunjiri said. The MP said the DP had positioned himself in a manner suggesting that he expected to get votes from the region on a silver platter rather than negotiate with leaders from the central region. "He looked like he expected Mt Kenya to line up and vote for him to be the president because he had supported President Kenyatta in 2013 and 2017. You cannot walk in and ask us to vote based on a past event that you did for us," Ngunjiri argued. The unapologetic MP described Ruto as "the guy who believes the presidency is his entitlement" and claimed the DP was a disobedient co-principal of the Head of State, "who has continued to seek votes despite calls to shelve early campaigns". Ngunjiri accused Ruto of not joining his boss in the fight against corruption and uniting Kenya, claiming that the DP allowed himself to be misled by Gatundu South MP Moses Kuria, who once bragged that he controlled Mt Kenya.
SEE ALSO: Modeling shows grim scenarios if rules are relaxed
The MP said it was sad that the DP had not spelled out his plans on resettling of displaced people who call central Kenya home. Ruto, he added, has also ignored key sectors of development, including tea and coffee, which the region depends on. Ngunjiri described Mt Kenya as the "pretty girl in the room", noting that any presidential aspirant who ignores the region with 8 million votes does so at their own peril. "We are going to transition in 2022 and what is critical is what is going to happen to people from Mt Kenya. This is a conversation some people seem to ignore. There is no way you are going to have a political conversation about Kenya without considering Central Kenya. We are a critical player and my problem is how the DP appears like he wanted us to look like associate players in the political game of this country," he said. Asked whether he was not scared of drawing tribal rhetoric into the political discourse, Ngunjiri said politics would not stop being tribal. "Politics has always been about negotiations. The Gikuyu community is too large and must be on the table if you have to run this country."
SEE ALSO: Inside DP Ruto's secret talks with Nandi elders
Ngunjiri said memories of the 2007/2008 post-election violence that saw hundreds killed and thousands displaced were part of the reasons he was hesitant to support Ruto. The MP also dismissed campaigns by the Ruto-allied Tangatanga group and accused its members of running scared. "Tangatanga is running a bluff that they can confuse people that the President has endorsed the Deputy President." Ngunjiri claimed Tangatanga members who were attending the DP's functions were being paid. "We have MPs who collect envelopes on Friday to accompany the deputy president." He said if Ruto was to become president, it would mean having a running mate from Mt Kenya, which could spark rebellion from other communities. At the same time, he stated, not having a Kikuyu in the equation could lock out the community from top leadership. To solve this quandary, Ngunjiri said, the Constitution has to be changed and five executive positions created for leaders from the majority communities.
SEE ALSO: It all ends in tears after memes fail to sway president
The MP argued that Ruto was destined to be the next opposition leader because he was employing similar strategies used by former Prime Minister Raila Odinga of 'wishing away' the Gikuyu community. He, however, stated that Ruto still has three years to redeem himself by obeying Uhuru and engaging leaders from the Mt Kenya region.