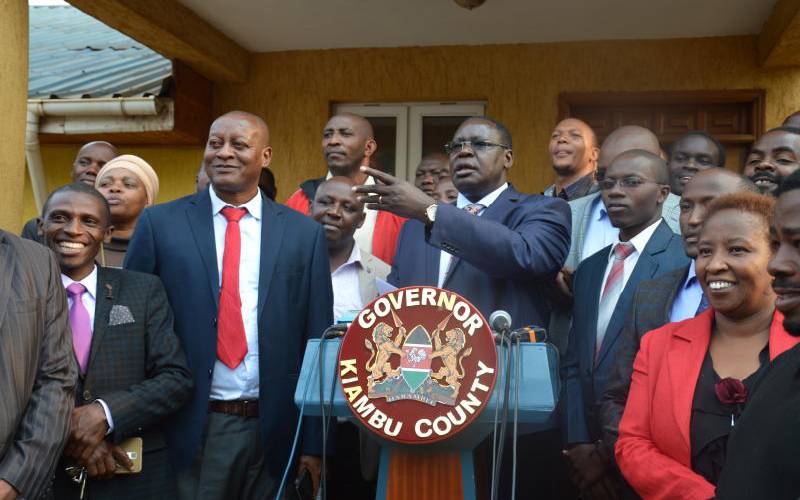 A leadership crisis is looming in the county government following a court order barring Governor Ferdinand Waititu from accessing his office over corruption charges. A Nairobi court, two weeks ago, barred Waititu from accessing his office after the governor, his wife Susan Wangari and eight county staff were charged with Sh588 million irregular tender. Opinion is divided on the ground, with one group saying the county should brace for a tough time ahead and the other insisting county operations will go on uninterrupted. Kinoo MCA Kimani Wanjiku, a fierce Waititu critic, denied claims that there is a power vacuum in the county, saying operations were going on as usual.
SEE ALSO: Clash of egos in Mt Kenya as governors row with deputies
Mr Wanjiku said already county workers have been paid despite the governor's absence. He said officials who ensure the county runs with no interruption include county secretary, county executive members and chief officers. "The only time we may need the governor is when the county assembly will approve a supplementary budget and he will be required to sign. When that time comes, we will see what to do. There are so many avenues that can be explored," he said. However, Witeithie MCA Julius Taki, a key Waititu ally, yesterday claimed the county was now at standstill following the ruling by the court. He refuted assertions by Deputy Governor James Nyoro that there was no leadership vacuum in the county.
SEE ALSO: Kiambu MCAs lash out at governor over 'paltry' 200kg rice donation
"We currently have a very serious leadership vacuum in the county. Operations are almost grounding to a halt and things are at standstill. There are several bills awaiting to be assented by the governor but that cannot now happen," said Mr Taki. The MCA added that currently, no hiring can take place in the county since the term of the county public service board had expired and a new team cannot be sworn-in without the governor being present. A source at the county headquarters who requested anonymity said county operations were going on without hitches. Immediately after the court stopped the governor from accessing office, Nyoro announced he had taken over as acting governor until the corruption case facing his boss is completed in order to avoid any vacuum as the law dictates. Nyoro, when contacted, declined to explain the real situation in the governor's office. "We know people are anxious as they need to know what is going on but we will soon let them know after we sort out a few things," said Nyoro.
Parallel office
Nyoro's remarks came even after it emerged that Waititu had set a parallel office in Nairobi where he has also been holding meetings with county executives and staff. Waititu could not yesterday be reached for a comment as he did not pick our calls.ate. Lawyer Kimani Wakimaa said the leadership vacuum in the county "could worsen since according to the law the deputy governor has no powers to govern". Mr Wakimaa said Nyoro can only be a governor by word since his boss the governor is still in office in accordance with the law.