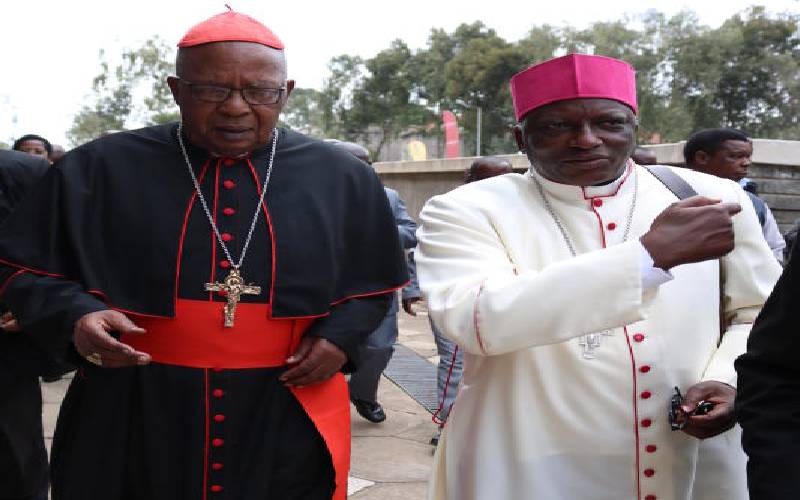 The Catholic Church, which runs many schools, has backed the Competency Based Curriculum. The church said it is working closely with the Ministry of Education and the Teachers Service Commission (TSC), to ensure successful implementation of the 2-6-3-3-3 system, which is replacing the 8-4-4 system. "Kenya Conference of Catholic Bishops (KCCB) participates in the Kenya Institute of Curriculum development (KICD) committees and panels at all levels," said Rev Paul Kariuki Njiru, chairperson Commission for Education and Religious Education. The church said while other stakeholders will focus on intellectual aspect, religious institution will strive to instill values and prevent cases such as depression and suicide common in the exam-oriented 8-4-4 curriculum.
SEE ALSO: Focus on TSC as Nancy Macharia's term comes to an end
"If we attempt to develop one aspect which is intellectual to the exclusion of spiritual, emotional, social, physical and relational aspects, we will end up having people without informed ethical decisions," said Rev Kariuki.
Sixth edition
He was speaking yesterday on the first day of the Sixth Catholic Schools Principals Association (CaSPA) conference at Catholic University of Eastern Africa. The event runs for three days. Kariuki and Archbishop John Cardinal Njue said rising cases of suicide among learners, mental disorders among the youth and violent behaviours spoke volumes on the need for holistic formation, which he said was a role the church was good at playing. "The church is conscious of some prevailing challenges including suicides, drugs and alcoholism, sexual immorality, depression and unavailability of adults among others," added Njue.
SEE ALSO: TSC, union can resolve sticky issues amicably
Societal pressure Cases of suicide among learners in Kenya has been on the rise with experts citing societal pressure to meet certain expectations as the key cause. According to the World Health Organisation, suicide cases in Kenya rose by 58 per cent between 2008 and 2017. The implementation of the new curriculum has been seen as a possible solution to such cases of depression and suicide as the previous emphasis on passing exams will be replaced by focus on individual competencies of learners. Kenya Institute of Curriculum Development Director Julius Jwan said students who scored low grades were not picking their certificates from schools because society had branded them failures.