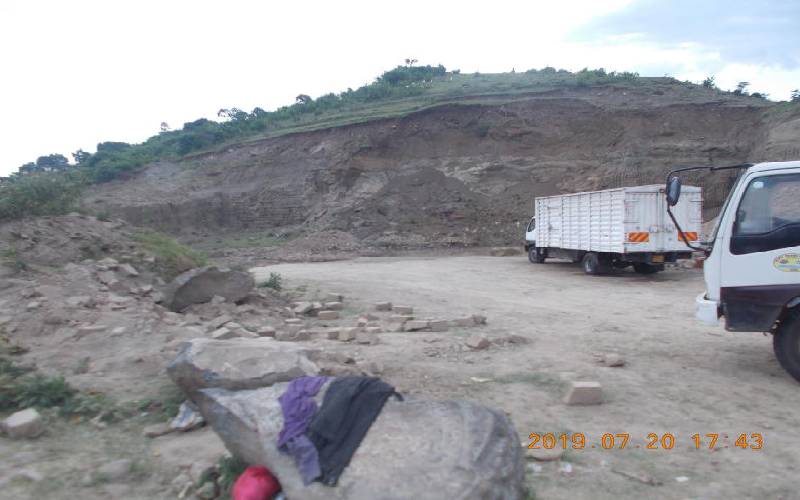 Rift Valley
The work has left schools standing near quarries grappling with chronic absenteeism.
A construction boon is luring learners in Tunnel area in Kipkelion West Constituency out of class and into neighbouring quarries to extract building blocks. In a day, the young labourers make up to Sh500, which is ordinarily hard to come by in an area where residents depend on subsistence farming. The work has left schools standing near quarries grappling with chronic absenteeism. "Sometimes a student will miss school for up to two days in a week," said Paul Sang, the principal of Tunnel Mixed Day Secondary School. According to Mr Sang, the school can easily accommodate double its current number of 227 students. However, many potential students beyond the school fence would rather work in the quarries than attend class. The head teacher attributed the poor performance in Kenya Certificate of Secondary Education (KCSE) to erratic school attendance. Last year, the school posted a mean score of 2.6 - one of the lowest in the county. County Director of Education Zachary Mutwiri called on parents and guardians to take children's education more seriously. "The Tunnel community must set a new agenda and take education seriously. In third term for example, we do not want to hear of cases of absenteeism due to students opting to go to work at the quarries," he said.
Government cash
Mr Mutwiri reminded the local community that if it allowed more children to drop out of school, the area would lose huge amounts of money from the Government under the free primary and day secondary education. "Tunnel Secondary School, for instance, received the Sh1.3 million. But if it had at least 600 students, it would have received at least Sh3.6 million," he said. Local politicians have also expressed concern with dwindling education standards. Chilchila Ward Rep Hezron Kipng'eno promised more Early Childhood Development Education Centers (ECDE). Kipkelion West MP Hillary Koskei said by 2017, Sereng Secondary School was on the verge of closure. The school had only nine students left. Siwot location chief Sammy Selim blamed the high number of school dropouts for rising cases of insecurity. "It is one of the reasons the government is constructing a police station at Tunnel to address insecurity and child labour at the quarries," he said.