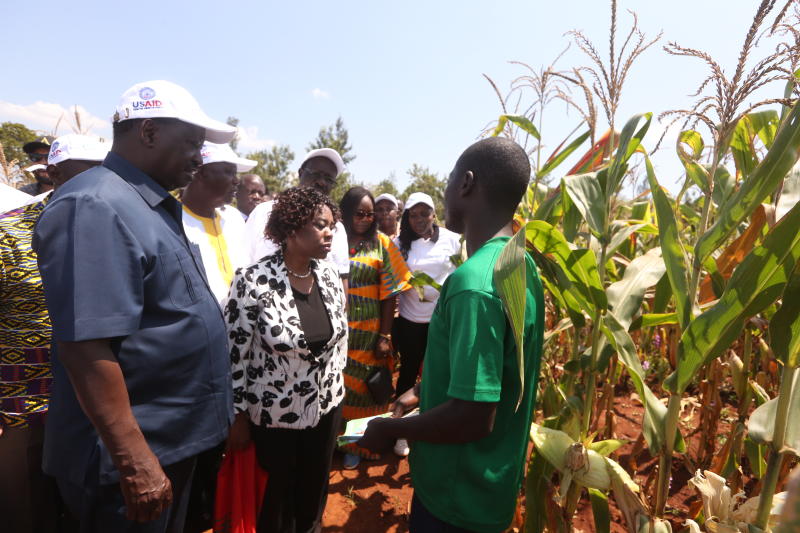 ODM leader Raila Odinga has told Nyanza region to expect more goodies from the government as a result of his handshake with President Uhuru Kenyatta. Raila said his warm relationship with the President and top government officials was bearing fruit even as he told Kenyans to prepare for political and constitutional reforms ahead of the next elections. He said Nyanza has lagged behind in development due to marginalisation by the previous governments. Speaking yesterday at his Opoda-Bar Opuk Farm in Bondo during a farmers' field day organised by KEPHIS, the former Prime Minister said several industries will be revived in the region.
SEE ALSO: Mr President, where are the nine stadiums, 500, 000 houses?
Raila, who was accompanied by MPs Oburu Oginga (East African Legislative Assembly), Fred Ouda (Kisumu Central) and Daniel Tuitoek (Mogotio), asked the government to hasten plans to revive Kisumu Cotton Mills (Kicomi). On 2022 politics, Raila said electoral reforms will be done before the country conducts another poll. "I know there are many people against the Building Bridges Initiative (BBI) because it has a number of issues to be addressed, including electoral reforms. The Kenyan dream can only be achieved by looking at what our national anthem says," he said. He said the country was on the right path to unity, inclusivity and peace through his deal with President Kenyatta. Dr Oburu urged the government to use the concept employed to revive Rift Valley Textiles (Rivatex) to bring back Kicomi. "This factory provided a reliable market for our cotton farmers and we are requesting the government to see that Kicomi is back on its feet," said Oburu.
SEE ALSO: Uhuru's fury with Senate stalemate
Two weeks ago, President Kenyatta made another inspection of the Kisumu port where Sh3 billion renovation works are underway to revive maritime trade. The visit came just two days after Raila toured the facility. It was the third time the President was visiting Kisumu port after promising to revive it to ensure Kenya increases its stake in regional maritime trade. Yesterday, Raila said Trade and Industrialisation Cabinet Secretary Peter Munya will visit Kicomi next week, adding that plans to revive the factory are in top gear. "You saw Rivatex being revived and we are expecting that Kicomi and other factories in this region will also be revived," he said. "Cotton was our main cash crop but it failed because of the monopolies that controlled the market. We are on a path to reviving factories such as Kicomi, which will provide market for our produce and also be a source of employment," Raila said. Oburu urged the county governments in the region to exploit Lake Victoria for irrigation farming.
SEE ALSO: Why Chewing or Miraa has been banned at Statehouse