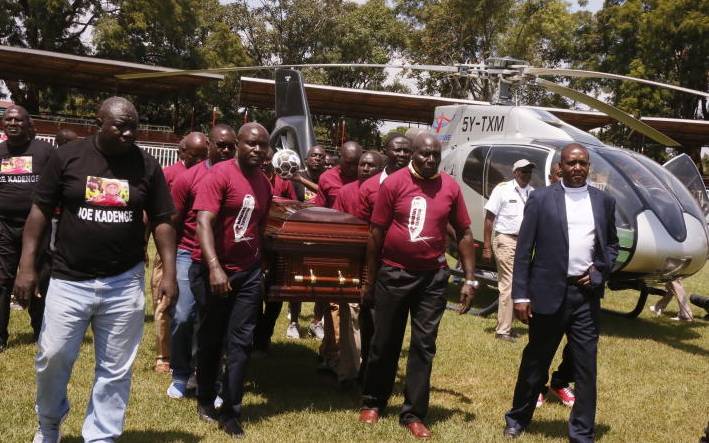 Hundreds of relatives, friends and football fans converged at Bukhungu Stadium in Kakamega to receive the body of fallen football legend Joe Kadenge. Kadenge's body was flown to the packed stadium at 12.36pm yesterday for a requiem mass. Police had a difficult time trying to contain the crowds jostling to catch a glimpse of the body.
Vihiga man
Kadenge hailed from Gavungwanyi Soliani in Gisambai location, Vihiga County. He played for Maragoli United and is remembered for scoring the fastest ever goal in the Kenyan Premier League with Abaluhya Football Club in 1966. The requiem mass was presided over by Hannington Atenya, a pastor at the Friends Quakers Kakamega. Kadenge's two widows Mable and Mary, were present. The mass was attended by, among others, Vihiga Governor Wilbur Ottichilo, his deputy Patrick Saisi, Kakamega Deputy Governor Philip Kutima, Hamisi MP Charles Gimose, ward reps from Vihiga and Kakamega County assemblies and football legends who played with Kadenge in his heydays. Kadenge's son Evans eulogised him as a role model who wanted the best for his family. One of Kadenge's closest friends, Joseph Muyeka, recounted how he and the departed started playing football at Musingu Intermediate School in 1951. He joined calls to rename Nairobi's City Stadium "Joe Kadenge Stadium."
Always available
Earlier his first wife Mable said despite the fame her husband enjoyed as a football star, he was always available for his family. The football legend's granddaughter, Shirleen, described him as a wonderful grandfather who never grew old. Mr Gimose described Kadenge as a national hero who brought the nation fame. Mr Saisi said Kadenge inspired him into taking up football in the early 1960s. His Kakamega counterpart, Prof Kutima, recounted how he used to follow Kadenge's exploits in the football field through a radio at a neighbour's home.