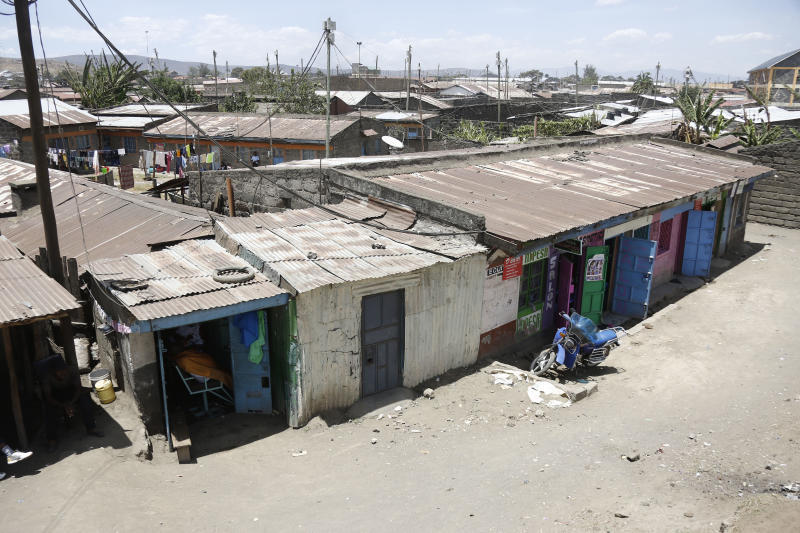 At a tender age of 14, Brian (not his real name) moved out of his mother's house in Rhonda estate in Nakuru.
The Standard Eight pupil joined an outlawed criminal gang dubbed 'Confirm Group'.
Brian quickly learned tricks of the under world and conned someone Sh120,000.
The cash was distributed among his peers and he took home about Sh35,000, which he used to pay rent and purchase households.
"I was introduced to the gang by my peers at school who always had money, at a time my mother was struggling to pay rent and afford a meal," says Brian, now a reformed criminal.
He reveals that the gang swindles unsuspecting people of their mobile money and fraudulently accesses bank accounts.
The gang operates in a group of three pretending to be workers of a telecommunication company.
The purchase sim cards that they register with identification cards stolen from victims.
One individual calls unsuspecting people, and hands over the phone to his colleague who convinces them to send money to a certain number through mobile money transfer service while the third party goes to an M-Pesa agent to withdraw the cash.
Evade police dragnet
Once the transaction is complete they block the SIM cards, and the victims number to avoid being traced by authorities.
"You cannot convince people alone, this is why we need someone to write text messages, call and also get where to 'wash it'," he explains.
The gang tips friendly M-Pesa agents after withdrawing money, for example, for Sh1,000 earned, the agent gets Sh300.
"Withdrawal of money is not just done in any M-Pesa, we have to establish a friendly individual who understands our work," says Brian.
The gang mostly operates in Bondeni estate where they have mastered how to evade police dragnet.
He claims that the criminals bribe their way out once arrested by police.
"To avoid being arraigned in court, they prefer to bribe an officer Sh20,000 or more instead of paying Sh50,000 at the courts," he claims.
The gang uses drugs which are easily available in Bondeni, Kivumbini and Flamingo estates.
"You can hardly con people with a sober mind. Drugs are easily accessible in Bondeni," says the youth. In 2016, Brian decided to quit the gang, after nine accomplices were allegedly killed by police officers in unclear circumstances.
In Nakuru Town West, the gang has recruited teenagers, mostly school drop outs, commonly known as 'ten liters.'
Ten liters works closely with ladies known as gold queens to fraudulently transfer money from bank accounts of targets.
Saturday Standard met Mary, a member of the gang, who conned a victim of Sh6 million. ____Mary gained accessed to the funds after she convinced the victim to reveal his bank details in pretense that she was helping him upgrade his account that was inactive.
"I posed like a bank customer care in charge of activation of account and called the account holder who shared details that transferred his money to my account," she said.
However, she was arrested after she tried to con another person Sh150,000 in Nyeri.
"Bank con needs patience because it is not easy to convince clients," she says.
If the con game does not work the gang turns to robbery with violence, mugging and burglary to sustain their lifestyles.
Vincent Okello, a victim of the gang, was injured after he resisted during attack in Rhoda.
"A group of small boys attacked and burnt me with firewood after I tried to fight them," says Okello.
While Stephen Oyugi who sells mandazi was mugged at Stima Line in September last year.
The father of three was clobbered mercilessly by the teens who robbed him of Sh6,000.
"The scars on my head were inflicted by teenagers who were hooded and armed with knives and clubs," recalls Oyugi.
The trader reported the case at Kaptembwo Police Station, OB number12/21/9/2018.
Andrew's (not his real name) house was too broken into in March by suspected members of the gang.
They stole valuables worth Sh60,000 including a TV, home theater and four mobile phones.
"I was awakened by criminals who were ransacking my house for valuables and threatened to kill me and rape my girls," he says.
The crime was reported at Rhonda Police Station, OB number 06/03/3/2019.
Three weeks ago suspected 21 members of the gang raided Eclipse club along Kanu Street and roughed up operators before destroying property valued at about Sh600,000.
"A group of about 21 armed criminals gained entry into my business premise, injured two operators and two clients before fleeing," says Elijah Njoroge, club owner.
CCTV footage showed, people armed with crude weapons alighted from a matatu while others jumped through the windows before they raided the club.
The gang that was hooded, others in caps, walked in groups of two and three to the club and declined to be screened by security.
Newton Okeyo, a security personnel at the club told Saturday Standard that he escaped death by a whisker during the raid.
"I ran to the toilet and locked myself up after the gang stormed in armed with crude weapons," he says.
The matter was reported at Bondeni Police Station, OB number 2/9/6/2019.
The suspects also raided Jacaranda club, but were overpowered by security personnel.
The club owner Geoffrey Waruru says the criminals arrived in a matatu saying they are the dreaded Confirm and their mission was unstoppable.
"This was the first time encounter with the criminals whom I know steal mobile money," says Waruru.
The case was reported at Bondeni Police Station, OB number 29/10/6/2019.
Acquired property
A visit by Saturday Standard team to Bondeni the 'home' of Confirm witnessed the gang members mode of operation.
The gang has mobile phones which they use to con unsuspecting members of the public by calling numbers randomly.
"Hello, shule inapanga kupeleka wanafunzu Lake Nakuru, na tunaomba utume Sh2,000 ya tour (Hello, the school is planning to take students for a tour to Lake Nakuru and the management is requesting you to send Sh2,000," goes a conversation of a gang member.
A local says members of the gang have acquired property from proceeds of crime.
Nakuru West Community Policing Chairperson Ambrose Oyugi admits that they have tried their best to contain the gang, but more needs to be done.
"Many teens have dropped out of school to join the gang. We have tried the best we can but so far we have not been successful. More needs to be done to curtail the gang that has continued to terrorise people," says Mr Oyugi.
Nakuru Town East MP David Gikaria has on several occasions been accused by the police of derailing efforts to contain the gang by bailing them once they are arraigned in court.
During a recent tour of Nakury by Interior Cabinet Secretary Fred Matiang'i, Mr Gikaria promised to work with police to reign in the gang and restore security.
"Your apology is accepted and it is our hope you stick to your newfound self. It is time for you to sit with the county security team and help in strategising how security in the area can be improved," said the CS.
Nakuru County police commander Stephen Matu notes that Confirm is a notorious gang that operates in Kivumbini, Flamingo, Kisulisuli, Kaloleni, Bondeni and Lake View.
Matu says the gang has since shifted to London, Hilton and Railways estates following regular crackdown by the police.
"We are aware of Confirm that has in the recent past been dominated by teenagers who steal mobile money among other crimes," says Matu.
At least 100 members of the gang have been arrested and arraigned in court in the past two months.
The police boss says they were charged with extortion, planning to commit a felony and being members of an outlawed gang. Matu however dismisses claims that police officers are bribed to free arrested suspects.
To stop the vice, Matu says the police are working with members of nyumba kumi and community policing committee to sensitize youths on dangers of crimes.
"Fighting Confirm and other crimes requires cooperation_ from the public," he says.