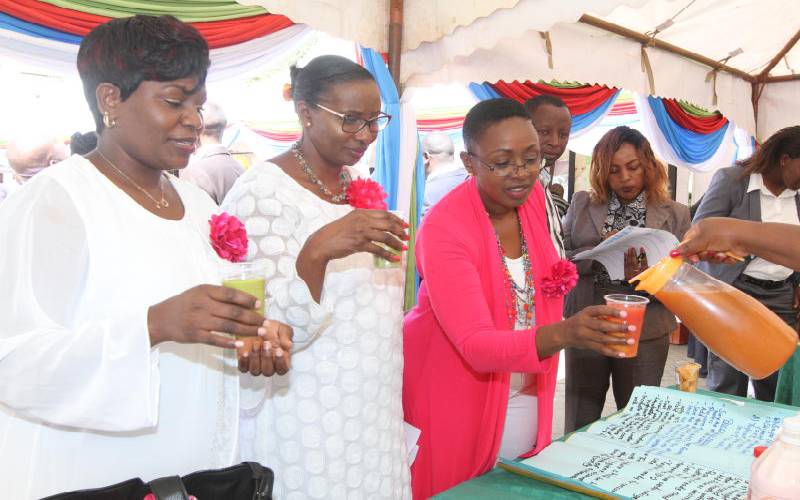 Women leaders under the Embrace Kenya lobby group have vowed to push to have women allocated half of Government positions if a referendum is held. Kirinyaga Governor Anne Waiguru, a key member of the group, yesterday noted that men had dominated the Government for years and that time had come for this to change. "Women are now pushing to have 50 per cent of all positions in the Government. Time has come for women to control half of Government. We must share power equally with our male counterparts," said Waiguru during an Embrace Kenya forum at Jomo Kenyatta University of Agriculture and Technology (JKUAT). The forum also sought to address food insecurity.
SEE ALSO: Anti-graft body probes Kirinyaga County staff
"We are positioning ourselves for more responsibilities and stake even as the referendum approaches. If we don't do this now, we may never get another opportunity to fight for these positions. This is the right time and we must do it," Waiguru said. She observed that the handshake between President Uhuru Kenyatta and former Prime Minister Raila Odinga created a platform for Kenyans to address development issues such as food security, which is part of the Big Four agenda. "Therefore, we are willing and ready to support Government efforts to attain food security in our country. It is possible for Kenya to feed her citizens." She added: "How can we be importing 10 million eggs from Uganda every month yet Kenyans can produce?" Others at the forum to launch a partnership between 'Embrace Kenya' and JKUAT to ensure food security were Public Service, Youth and Gender Chief Administrative Secretary Racheal Shebesh, and Homa Bay Women Representative Gladys Wanga.