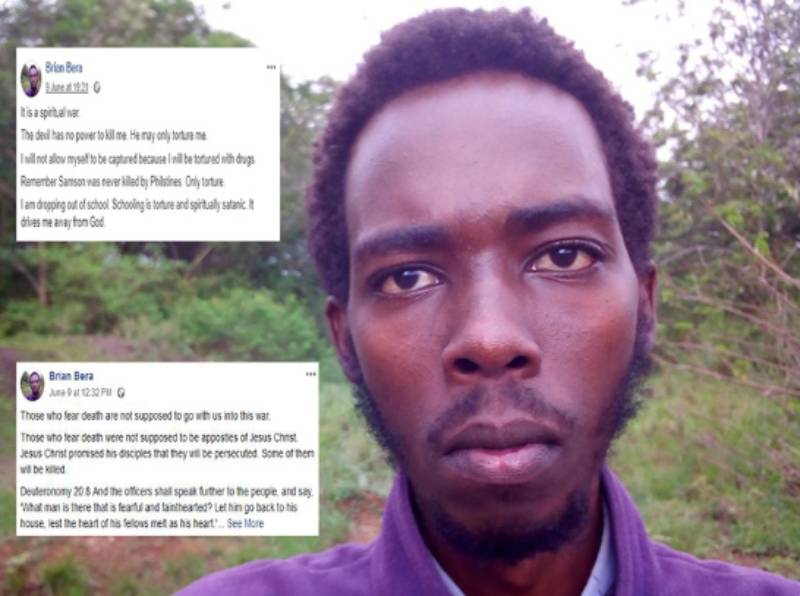 Brian Kibet Bera, the Jomo Kenyatta University of Agriculture and Technology (JKUAT) student
who was shot and injured after he intruded into State House
, Nairobi, may have been driven to it by a "sense of social justice'' and radical religious convictions. "It is a spiritual war!" the 25-year-old, who also claimed schooling is "torture and spiritually satanic", declared on his Facebook wall on Sunday, June 9. "The devil has no power to kill me. He may only torture me. I will not allow myself to be captured because I will be tortured with drugs. Remember Samson was never killed by Philistines. Only torture. I am dropping out of school. Schooling is torture and spiritually satanic. It drives me away from God," he posted on his Facebook account. He further revealed his plan to attack State House and on Monday, June 10, he made true his threat.
SEE ALSO: Nakuru clerics reject age limit for worshipers
"Tomorrow (Monday) I attack State House. God has sent me to execute judgement on every thief and every partner of a thief," Bera declared. On "social injustices", the JKUAT student who hails from Mt. Elgon blamed "foreigners" who have invaded his ancestral land. "Foreigners leave my land. Foreigners leave my inheritance. You have robbed me the last 24 to 25 years of my life. You have persecuted me from my childhood, from my mother's womb up to now," he posted. The Mechanical Engineering student was sure police officers would not kill him, "they cannot kill me, because if they kill me, my people will kill them." His threats were accompanied by Bible verses. "Deuteronomy 20:8- And the officers shall speak further to the people, and say, what man is there that is fearful and fainthearted? Let him go back to his house, lest the heart of his fellows melt as his heart.'
SEE ALSO: Uhuru's balloon internet video call excites residents
"Proverbs 17:15: He who justifies the wicked and he who condemns the righteous are both alike an abomination to the Lord." Bera was shot and injured after he jumped over the fence and brandished a knife when he was asked to surrender. He is currently receiving treatment at Kenyatta National Hospital as police say they are investigating the motive of the Monday attack. However, State House breaches didn't start with the JKUAT student. The place is arguably one of the most protected residences in Kenya.
SEE ALSO: Mt Kenya bigwigs to support Kimunya after private 'lunch'
Elite Recce Unit marksmen, armed plainclothes officers keep a close eye on all corners of its expansive grounds. Any attempt to force or gain access to the premises that serve as the residence of Kenya's Head of State plain suicide according to insiders. But that hasn't stopped daring individuals who, over the years, have thrown caution to the wind and did the unfathomable.
2017
A man was shot dead within State House by General Service Unit officers. According to the police, the intruder was alone at one of the parking lots when he was shot three times. President Uhuru Kenyatta was attending a tournament at Muthaiga Golf Club but was informed about it when he returned. It is believed that the victim jumped over the perimeter fence and wandered for some time before he was spotted.
2013
Edward Njuguna was arrested after he was found loitering at a farm near President Uhuru Kenyata's private quarters and offices at State House, Nairobi, at around 2.30am. Njuguna was arrested by the Kenya Wildlife Service warders manning the Nairobi Arboretum, which neighbours the president's official residence. According to police officers, the intruder informed them that he intended to see where the president lives. The park is usually closed at such an hour.
2004
In September 2004, a foreigner was arrested loitering near the President's private quarters at State House Nairobi. The then President, Mwai Kibaki, was having breakfast when the 22-year-old Australian exchange student was arrested only 50 metres away by a General Service Unit guard. He was later charged with trespass.
Additional reporting by Cyrus Ombati