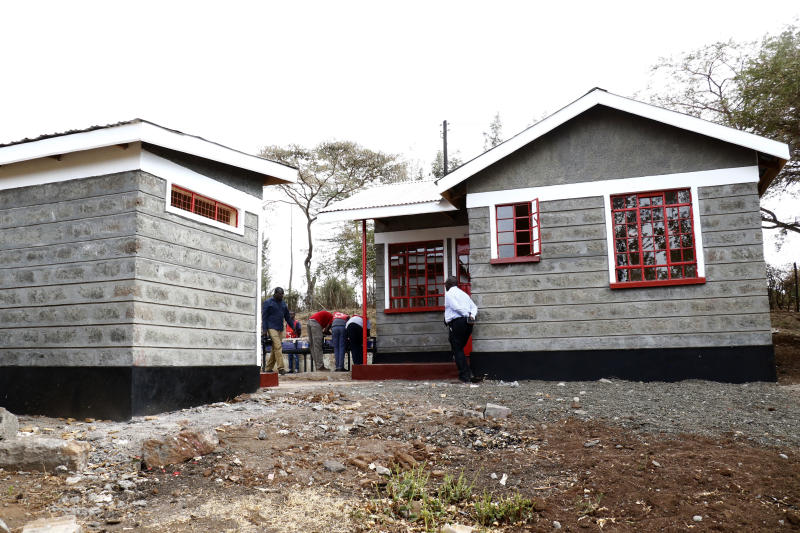 Rift Valley
The housing project was done across 28 counties, with the national government allocating it Sh1 billion.
The Kenya Red Cross Society has handed over newly constructed housing units to victims of the Solai dam tragedy. A total of 37 housing units were handed over yesterday, constructed at a cost of Sh37 million, with each unit costing Sh850,000. The units are two bed-roomed, have a store and a sitting room. Adjacent to the houses is a kitchen and a toilet. They were handed over by the Kenya Red Cross Society Deputy Governor Pascal Mbeche, who said the housing project was done across 28 counties. Across the country, the project was allocated Sh1 billion by the national government towards support of individuals affected by floods in 2018.
SEE ALSO: Is it true more Kenyans have died from floods than Covid-19?
"We are grateful that we have delivered shelter to victims affected by floods. The project was undertaken under a Sh1 billion project," said Mr Mbeche. Mbeche said the humanitarian organisation will embark on a water project that will be supplied to people who resided at Energy village. "Tender for supply of water is being worked on to provide water to victims of Energy area. We want the project to benefit everyone," he said. The beneficiaries were also issued with two high density mattresses and beds. Handing over of the houses was done ahead of official ceremony that will be officiated by President Uhuru Kenyatta, next month. The Solai dam tragedy occurred on the night of May 9, 2018, sweeping villages of Energy, Nyakinyua and Nyandarua and killing at least 48 people.
SEE ALSO: Ambulance crew under probe for helping drunk teenagers beat curfew
Also present during the hand-over ceremony was County Trade Executive Raymond Komen, who said shelter was the first phase of restoration. Other activities being carried out by county administration include roads infrastructure and rehabilitation of land to enable locals to farm. "Restoration is being done in phases to enable locals reclaim their livelihoods," he said. The project was welcomed by victims who appreciated the government and the Kenya Red Cross Society for providing them with shelter. Anne Mumbi, who lost her mother Tabitha Wairimu in the tragedy, is one of the beneficiaries. She said the house will save her struggle of raising money for rent. "Though the tragedy left us devastated after the death of our mother, I am grateful to have shelter," she said. Another beneficiary, Isaac Muna said provision of shelter was clear indication that the government was dedicated to helping them get back to their normal lives. Muna 54, who lost his wife, Nancy Muthoni, however asked the government to speed up restoration of land within the locality that has gullies to enable locals to farm.
SEE ALSO: Drunk teens using ambulance to beat curfew blow crew's cover
"We appreciate the government for the housing units and we believe the parcels of land shall be surveyed and restored as soon as possible," said Muna. Rongai sub county deputy county commissioner hailed the development. "Let us remain patient during the ongoing restoration process and appreciate assistance we are given; for example, let nobody sell the bedding they have been given," he said. A visit by the
Saturday Standard
revealed that a number of trading structures at Solai shopping centre are under reconstruction.