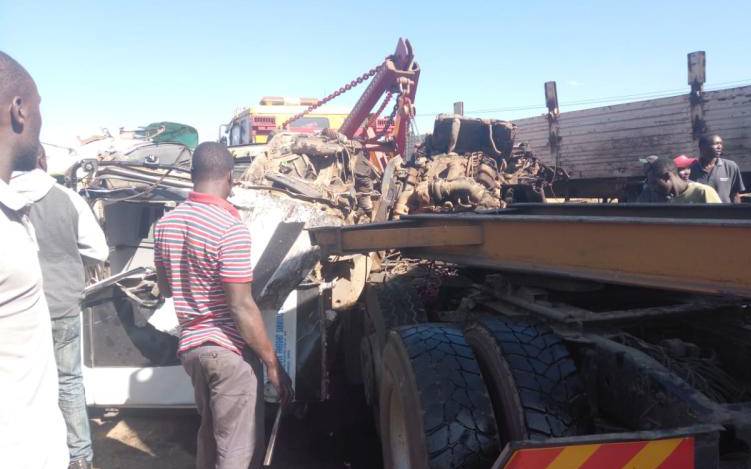 One person died while another sustained serious injury after they were involved in a tragic road accident at Salgaa near Molo River Bridge along Nakuru-Eldoret highway.
The accident involved two trailers which collided head on at around 7am on Friday.
One of the trailers was heading towards Eldoret while the other was heading towards Nakuru.
Eye witnesses said that one of the trailers was trying to avoid a head on collision with a motorbike which was heading in the opposite direction before the collision.
The witnesses said that the driver of the one of the trailer was off his lane before the collision.
One of the trailers is said to have veered of the road, rolled and fell into Molo River, after the collision.
Rongai Sub-County Police Boss Richard Rotich who confirmed the incident said that one of the trailers was out of its lane leading to the collision.
"The collision of the trailers happened when one of the drivers tried to avoid hitting a motorcycle but unfortunately it collided head on with another trailer," he said.
He said that the driver killed in the accident was taken to Nakuru County Mortuary while the other who was injured was rushed to Molo District Hospital for treatment.
Rotich urged drivers to be careful while driving especially during the Easter celebrations.
"During the Easter Celebrations, we have so many passengers travelling all over the country. Drivers should drive within the speed limit to avoid such fatal accidents," he said.
He also cautioned the drivers who do not observe lane discipline and those who ignore traffic rules to ready to face the law if caught.
"We are conducting a crackdown to arrest those drivers who do not observe traffic rules so we can ensure that such accidents do not occur," he said.
The Nakuru-Eldoret highway has recorded many fatal accidents over the years.
However, with the construction of Sobea-Salgaa-Mau Summit dual carriageway on the hoighway, the accidents incidents have reduced.
The construction of the walls separating the two-way road which started last year, is still underway and yet to be concluded.