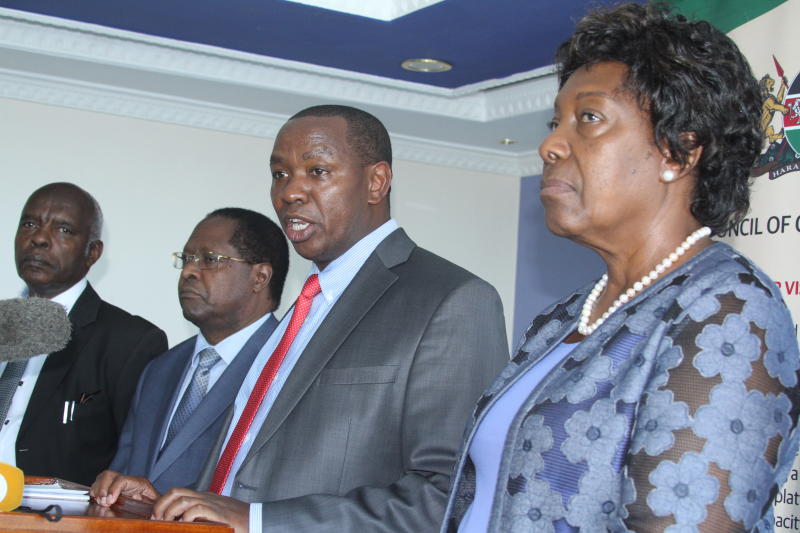 Governors want President Uhuru Kenyatta to declare drought a national disaster. The county bosses also called for speedy disbursement of funds to deal with the crisis. The Council of Governors (CoG) through Laikipia Governor Ndiritu Muriithi said the long rains - which were expected from March - had delayed and that the lives of nearly six million people were threatened by drought. The number, the county bosses said, could rise if emergency food distribution was not hastened.
SEE ALSO: President Uhuru signs six Bills into law
"The problem has persisted and it should now be declared a national disaster. We don't have to wait until people or livestock die for there to be a response," Mr Muriithi said yesterday. The county chiefs painted a grim picture, estimating that six million Kenyans will face starvation if there is no immediate response. The governors said a majority of counties had committed resources to other programmes, adding that it was only through a supplementary budget that money can be re-allocated to deal with emergencies. National and county governments are in their last stretch of the 2018-19 financial year, with the National Assembly yet to approve the supplementary budget. "The national government should prioritise and expedite resource disbursement to counties hit by drought. We initially had about 13 counties but as the rains continue to delay more people are facing hunger and starvation," said Muriithi.
SEE ALSO: Muslim leaders read mischief in the new CRA formula
Asked to confirm whether there were any deaths recorded due to hunger and starvation, Muriithi and his counterparts Charitu Ngilu (Kitui), Martin Wambora (Embu) and Kivutha Kibwana (Makueni) were non-committal. "We are concerned more with the conflicts that will arise because of the persistent drought and famine. There will be conflicts associated with pastoralists looking for pasture for their animals," said Prof Kibwana. Mr Wambora said close to 150,000 people, mostly living in Mbeere South, are in dire need of assistance. The National Drought Management Authority is providing residents of Mandera, Wajir, Turkana, Garissa, Marsabit and Tana River with water and also maintaining water points in selected areas. The Meteorological Department has told Kenyans not to expect the long rains.