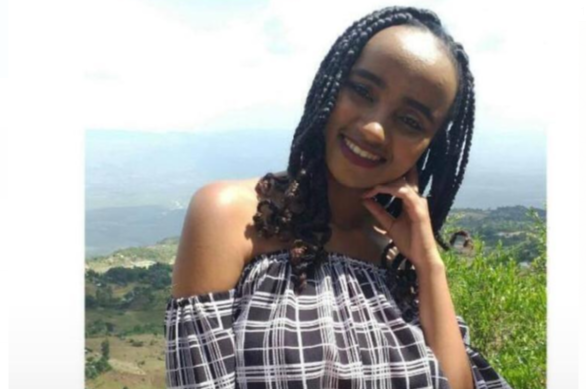 Police in Eldoret are holding a suspect behind the death of a finalist student which took place Tuesday outside Moi Teaching and Referral Hospital (MTRH), Eldoret.
The suspect identified as Kinuthia was rescued by police as irate locals descended on him with stones after he hacked the medical student with an axe and a knife. The student later died of injuries after being rushed to hospital.
According to witnesses Ivy Wangechi, who was in her mid-twenties, had finished doing ward rounds at the second largest national referral at 10 am and was walking outside the institution with her friends when the assailant hit her from the back.
It is believed that the middle-aged man slashed her neck with a knife attracting attention from the nearby motorbike operators who attempted to intervene but faced resistance from the assailant who fished out an axe from a white gunny bag and wielded it in the air amidst screams from the public.
"He was smartly dressed and the sight of the axe and knife he was holding scared most of us from approaching him. Realising that the student was still writhing in pain, he hit her with the axe and ran towards The School of Dentistry," said Stanley Mutai, a local who arrived at the scene.
He added: "The public pelted him with stones until he collapsed. That is when police arrived at the scene and rescued the assailant before rushing him to MTRH because he had suffered injuries on the head."
Irate students barricaded the busy road towards MTRH while holding a silent march as a sign of respect to the departed comrade before proceeding to Eldoret Central Police Station to demand answers.
"It is a sad day for our colleagues because we have lost a final year student who has persevered for seven years due to prolonged strike only for her life to be shattered in a mysterious circumstance," said Michael Maina a class representative to the deceased.
He added: "The incident has brought loopholes in our security system and our safety. We hope that we shall not witness another occurrence in future."
Locals used the platform to advise students against getting into relationships that later turn nasty insisting that they should use their time well to pursue studies.
"If you have issues with your man or woman, resolve it amicably instead of killing which does not help," said Mary Chebet.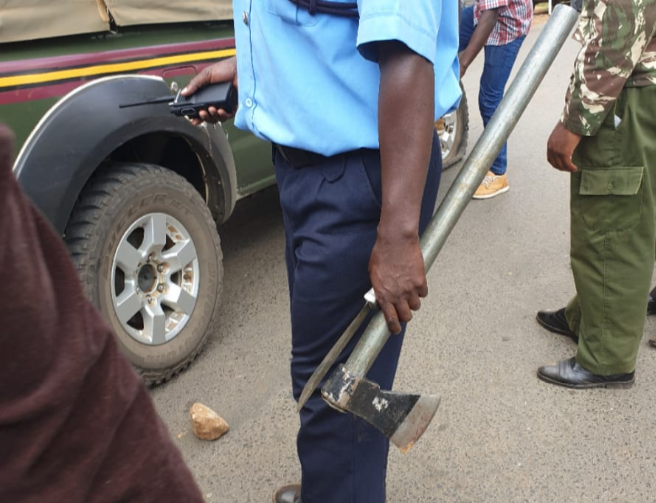 It is alleged that the suspect had initially travelled from Thika and parked his vehicle next to the institution main entrance before going to town using a motorcycle where he bought the knife and axe. He then concealed them inside a sack and headed back to MTRH to wait for the student.
Police officers seized the Honda Civic vehicle under registration number KCB 836P and drove it to the police station for further investigations.
According to sources within the institution, the suspect gave them the key and told them information on the whereabouts of the vehicle.
It is alleged that he works at one of the betting companies.
Moi University Vice-Chancellor Professor Isaac Kosgey condoled with the students while asking them to be calm as police continue with investigations.
"We have lost one of us who was attacked by an unknown individual outside the referral. We have already contacted the family."
He added: "Security starts with you and my advice is that we should learn to manage relationships so that it does not spill to other security issues."
Professor Lukoye Atwoli the institution's Dean of Students noted that the incident has robbed them a student who was in her final year.
"We are counting on police for details of the death of our student. We can confirm that the assailant is not a student here," he added.