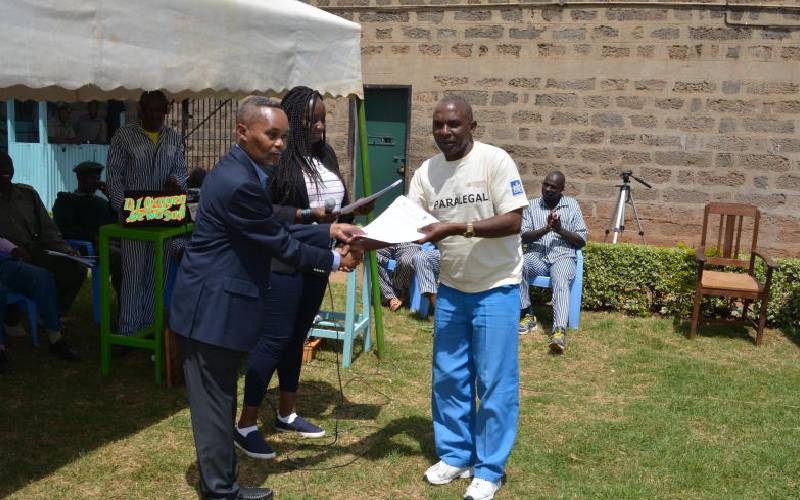 Central
Hundreds of inmates across the country are being empowered to seek redress
Abdullahi Chute looks at ease in his striped prison uniform as he goes about his daily routine. But the clean-shaven inmate, who has called King'ong'o Prison in Nyeri home for the past three years, is held in high regard by his fellow prisoners. Chute, who is fondly referred to as wakili, does legal work for the other inmates. He is the closest thing that prisoners fighting to avoid lengthy sentences have to an in-house lawyer. "Not everyone who is serving a prison sentence committed an offence. Some have been falsely accused while many are illiterate and poor so they cannot afford lawyers to represent them in court," Chute said.
SEE ALSO: Standard, Safaricom in pact to sell digital newspapers
From his well-articulated arguments and mastery of legal lingo, the only items missing are a white wig and black robe. But Chute still has nine years to serve after he was convicted of manslaughter. He is one of a handful of inmates trained as paralegal courtesy of an initiative between civil society groups, the Kenya Prison Service and the Judiciary to equip inmates and prison officers with legal knowledge to promote access to justice. While the Constitution gives accused persons the right to be represented by an advocate or have one assigned to them by the State, the reality is that many suspects arraigned in court don't have legal help. "If we knew the law when our cases were on-going, we would have had an easier time," Chute said. Nyeri Prison Officer in-charge Bison Madegwa said a number of remand prisoners are jailed because they did not know the legal processes.
SEE ALSO: How varsity used Sh58m to defend Sh38 million claim
"We have people here who have been jailed for petty cases that wouldn't have landed them in court if they knew how to defend themselves," Mr Madegwa told The Standard. "The biggest challenge is that they do not know the law so many just write whatever comes to them and when they got to court, it is dismissed due to lack of sufficient grounds," he added. According to the 2018 Economic Survey by the Kenya National Bureau of Statistics, there were 209,870 prisoners in 2017. Of these, 39.3 per cent were convicted prisoners while 129,466 were in remand prison as their trials proceeded.
Empower inmates
But now hundreds of inmates across the country are being empowered to seek redress in instances they feel justice was not served.
SEE ALSO: Company still pursuing Sh42.4 million awarded by British court
Prison paralegals like Chute help inmates to draft legal documents such as appeals, protest delays in their cases, or apply for bail. The paralegals are also the people the inmates approach if they need an interpretation of the courts' decisions. They are also trusted to judge the success of appeals. "He (inmate) knows he didn't commit the crime but because he couldn't defend himself to the level required by the courts, he is where he is (prison). He takes the Judiciary as an enemy," Chute said. High Court Judge Teresia Matheka said that besides increasing the chances of an innocent person being convicted, the lack of legal representation also made the work of judicial officers difficult. "Not everybody understands the legal processes. Some of them are very simple but until someone tells you what they are, you will not know. And when you appear in court and you do not know the simplest things about how to respond, that also makes work difficult for the officers dealing with the matter," Justice Matheka said.
SEE ALSO: Ex-MP stares at bankruptcy over Sh6 million debt
For instance, a suspect can plead guilty to an offence, but then defend themselves during mitigation, which the court would interpret as reversing their plea. One inmate who can testify to the effectiveness of having paralegals in jail is Gaston Stephen, who was staring at a life behind bars after being arrested with six stones of bhang worth Sh3,000.
Narcotic drugs
Gaston was arrested on June 8, 2014 at a roadblock along the Loitokitok-Emali road in Kajiado County, taken to court and charged with trafficking in narcotic drugs. He pleaded guilty and was sentenced to life imprisonment. In addition, he was fined Sh1 million or serve one more year in prison. Gaston, however, was advised to move to the High Court to request the sentence be reduced. His argument was that it was excessive and the magistrate had not taken into account that the cannabis was for personal consumption.