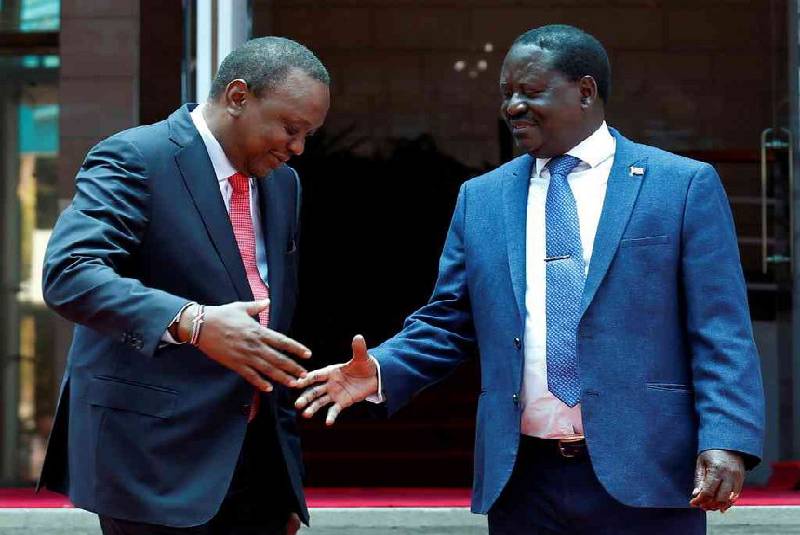 Editorial
The point is that the moment Uhuru courted Raila, his supporters immediately seemed to 'forgive' and 'embrace' him. A simple political signal shone a
Not long ago, Safaricom had a crisis on its network that was triggered by congestion due to intensity of usage over a short period of time. It happened nearly on all Fridays. Everyone seemed to want to talk to someone. The then Chief Executive Officer Michael Joseph blamed it on the circus where Kenyans keep trying to get through the network even when there are challenges, worsening the situation. He termed it; "Kenya's peculiar habit". Well, in hindsight, indeed we seem to have very peculiar habits that go beyond calls and 'Please call me' SMS's. One of them is how we manage our politics, or is it how our politics manages us? Take the example of the famous handshake between President Uhuru Kenyatta and former Prime Minister Raila Odinga. All of a sudden, the "political monster" whose protests at Uhuru-Ruto's win and attempts to be sworn-in as the 'People's President' is now a 'selfless Kenyan hero', a 'nationalist' and a 'unifier'. In one YouTube video doing the rounds, Uasin Gishu Governor Jackson Mandago, says that having fought Raila so hard at the last elections, he would duck off were he to see Tinga walking towards him in the corridors of State House. He even remarks in jest that Raila now has a bedroom at State House. The point is that the moment Uhuru courted Raila, his supporters immediately seemed to 'forgive' and 'embrace' him. A simple political signal shone a warm light across the political spectrum. But it came with three main complications.
SEE ALSO: State to pump Sh100b into new super lender
Political enclave
The first is that it caught the Jubilee's other 'shareholder' William Ruto, who is Uhuru's deputy, flatfooted and ever since, the Rift Valley team and a slice of Central Kenya political enclave associated with Ruto, has become very suspicious of Uhuru. They see him as a man held by a spell, sort of bewitched. And that is why the ongoing graft war is seen in this quarter as targeting Ruto and his 'people'. So, in comes Raila and Uhuru loses a bit of Ruto as discerned from this week's absence of the DP at the launch of Huduma Namba event in Kakamega. Of course, Ruto downplayed the issue, saying he was meeting the Cuban Vice President. But then, inside Jubilee, the absence was seen in a different light, especially given that it was a one-hour event that, with choppers at his disposal, Ruto could still have made it to Kakamega. Then his critics threw in the spanner; he is sulking because Uhuru assigned Raila and other opposition leaders similar roles, and because the national biometric listing is associated with the latest entrant to his own list of most hated; Interior CS Fred Matiang'i.
Impeachment motions
The second issue that we have to deal with in line with our "peculiar habits" is the fact that the "handshake" has brought peace and a predictability of our operating environment, at least for now. But in turn, apart from alienating Uhuru from his friends, for Raila it has whetted the appetite from his men and women for more, hence you are hearing calls for impeachment motions against the DP and demands that the cells be expanded for more graft suspects.
SEE ALSO: Mr President, start with extending curfew to 10pm
In short, the handshake cured some aspects of afflictions affecting Kenya but then the side-effects have led to other problems. That is the State of the Nation, it is another tale of our "peculiar habits".
Mr Tanui is Deputy Editorial Director and Managing Editor, The Standard