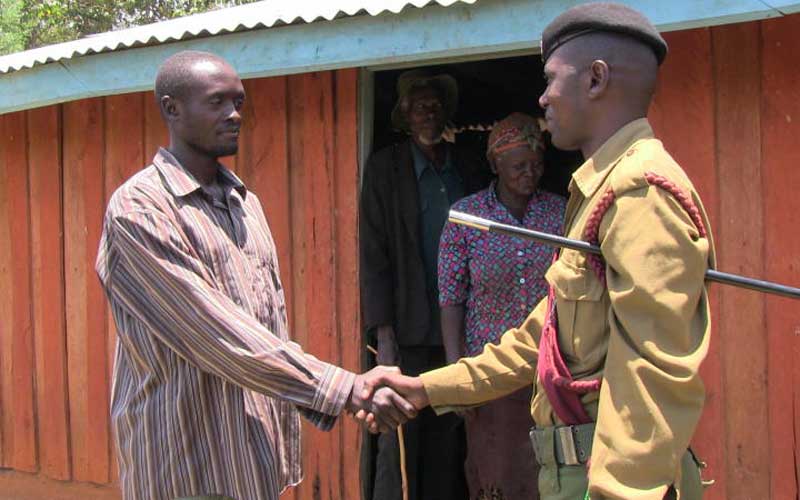 Rift Valley
Anti-drug abuse campaigner to try to get Nicholas Lang'at reinstated. He was earning Sh200 daily blasting rocks.
A former Recce Company officer who fell into alcoholism has been admitted to a rehabilitation centre. Nicholas Lang'at, who has been blasting rocks to eke out a living, was picked by anti-drug abuse crusader Moses Kimenchu from his Poiywek village in Ainamoi Constituency. Mr Langat landed a fully sponsored programme at Jomek rehabilitation centre in Nakuru at an institution run by former National Authority for the Campaign against Alcohol and Drug Abuse (Nacada) Chairman John Mututho. "It has been four years and it is remarkable that Langat hasn't forgotten anything he learned at the GSU (General Service Unit) camp and Solio training grounds," said Kimenchu.
SEE ALSO: I had my first drink with dad and didn't stop
In a paramilitary mock drill, Lang'at - who was suspended in December 1, 2014 - proved that despite his struggles with alcoholism, he was still very skilled in VIP protection, anti-terrorism, recognition and demolition of explosives. "I want to turn a new page in my life… that is why I have agreed to go to the alcohol rehabilitation centre. I have suffered enough. I want to start a new life for the sake of my daughter and my ageing parents," he said. Langat fell into alcohol addiction after his wife contracted throat cancer that ultimately killed her. Kimenchu expressed confidence that the three-week programme would get Langat back on track. "Since February, when I first visited Lang'at and understood his trauma, he has been undergoing counselling and today we are taking him to an alcohol rehabilitation centre so that we can completely turn his life around," he said. The anti-drug abuse campaigner - who drove to Kericho from Murang'a after Lang'at's story was highlighted in the media - expressed confidence that there was hope for the 28-year-old former Recce commando.
SEE ALSO: Drunk Kiambu commissioner to be rehabilitated
Kimenchu added that once Lang'at completes the rehabilitation programme, they would try to get him reinstated to GSU. Also present to encourage Lang'at in his road to recovery was former army officer Stanley Gachie Mwangi, who has once been an alcoholic. "Checking into rehabilitation is the best thing my fellow former member of the discipline forces has done. It is only a matter of time before Lang'at makes a full recovery," said the former first Kenya Battalion army member, who was based in the Gilgil army barracks. On Friday, Lang'at's mother Esther Cheptarus appealed to President Uhuru Kenyatta to pardon her son and reinstate him. When The Standard first met her, Mrs Cheptarus, 70, was seated on a rock pitifully watching her son break his back for a job that earns him Sh200 on a good day.