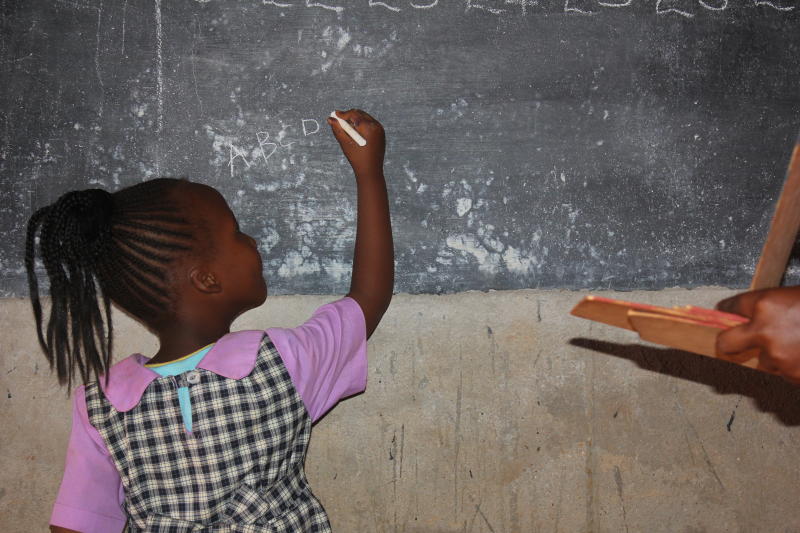 Kenya
Doctors said the four-year-old needs a cochlea implant which has been scheduled for April 12.
Ashliz Mueni loves mathematics. She also good in languages and sometimes teaches her classmates in Pre-Primary II using flashcards. There is only one problem. Ashliz, who is four years old, can neither hear nor speak. Ashliz's condition wasn't diagnosed until she turned two. She was then living with her grandmother and her mother, Felista Nthuli thought that Ashliz's speech delay was because there were no children she could interact with.
SEE ALSO: Covid-19: We should not forget people with disabilities
Nthuli therefore took her daughter to school to interact with other children so that her speech development could improve. But a sad discovery awaited the 27-year-old mother from Kaumoni village in Makueni County. Even after interacting with her peers, Ashliz still could not utter a word. Nthuli also realised that her daughter had a hearing problem.
Cochlea implant
That is when they visited Kijabe Mission Hospital where they were referred to an audiologist who told them that the little girl needs a cochlea implant to allow her develop vital language skills. "Doctors at Kijabe found that she couldn't speak and they referred us to Hearing Implants Ltd. After a series of tests, she was diagnosed with profound sensorineural hearing loss in October last year," Nthuli says.
SEE ALSO: Siblings Beryl, David Wamira prove disability is not inability
To correct that condition costs Sh2.75 million. Nthuli can't exactly explain how her daughter developed such complications yet she had taken her through all ear, nose and throat (ENT) clinics. "After birth, she was a happy baby who passed all the required hearing tests, and this problem wasn't revealed. I still don't know why this had to happen to my daughter," she says. Dr Mujahid Din, a Nairobi-based ENT surgeon, says cochlear implantation is the only remedy for the condition but it has to be done before Ashliz turns five. If all goes well, Ashliz will undergo the cochlea implantation on April 12, which includes sonnet fixation (light audio processor), surgery, speech and language therapy, mapping programming and audiological services. "We have come a long way. I have to be patient and hope that we will soon get there," Nthuli says. Immediately the problem was discovered, Ashliz was given hearing aids, but these did not work. "I tried to play loud music on my phone and make Ashliz search for it, but it was clear she could not hear the sound." Eventually the hearing aids were removed.
Sharp memory
"Most of the time my daughter seems to wonder why she is put in rooms with all these big machines and she has to travel. "But I can't wait for that moment when I will see her get well, play and learn like other children and pursue what she wants in life." Scholar Mutisya, Ashliz's teacher at Frajelite Junior Academy, says although the pupil cannot pick sounds from her and other pupils in class, she has a sharp memory and is able to quickly master what she sees on the flashcards. And as we stood in the classroom, she showed us her prowess when she stood up and easily wrote letter A to Z on the blackboard. Interestingly, with all the learning difficulties, she has beaten other learners in various tests and is ranked among the top pupils in class.