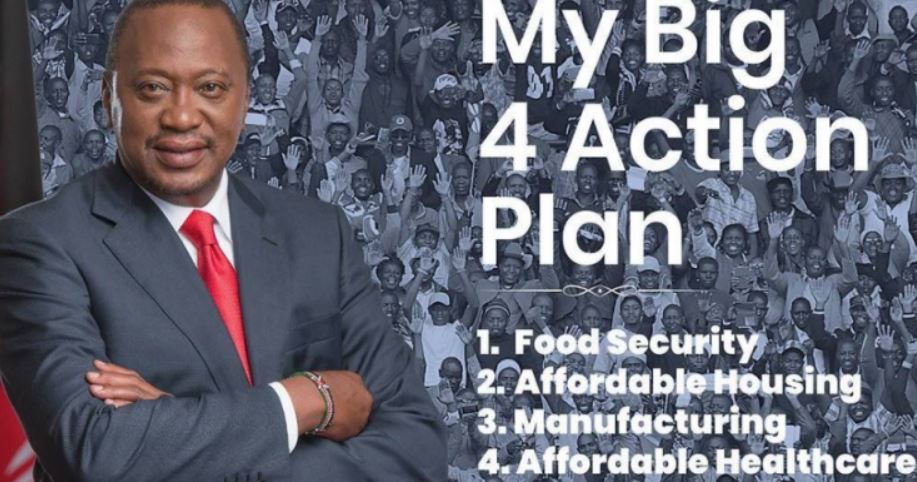 As the Annual Devolution Conference takes place in Kirinyaga this week, it is time to take stock and look at devolution and the Big Four, challenges, opportunities and strides that county governments have made over time.
Although there are many questions on whether devolution has had positive impacts on the lives of the citizenry and the development of the country, there are changes at the county level which show that the Constitution that Kenya adopted in 2010 has brought some changes.
From a broader perspective, devolving leadership has also fostered national unity by enhancing inclusivity in national development, which has consequently reduced political and social risks that are brought about by the marginalization of certain areas.
The greatest benefit of devolution is that county governments can now tailor local development investments to the needs of the people by defining priorities aligned with the 'Big Four' Agenda. This will ensure that county governments are in sync with efforts at the national level. County Integrated Development Plans (CIDPs) should be aligned with 'Big Four' priorities and collaboration between the national and county governments, established by closing capacity gaps in legislation and budgeting.
However, the most challenging issue lately has been on how the national and county governments are going to collaborate in delivering on the promise of the 'Big Four' Agenda, a brainchild of the current national government. The Big Four priority areas announced by President Kenyatta in December 2017 are investments in Universal Health Coverage (UHC) to ensure access to quality and affordable healthcare for all Kenyans; quality and affordable housing; food security; and industrialization to promote value addition to products, whilst creating employment opportunities for the country's working-age population, by 2022.
Smooth implementation
Last year, some governors failed to realign their budgets with the national government's Big Four agenda. They allocated more funds to other sectors, leaving food security, healthcare and affordable housing with minimal funds. This could be a sign of inadequate engagement between the national and county governments. The Big Four agenda seems to be more top-down. However, the counties appear to be in support, to facilitate the trickling down of the resources.
The governors must agree for the smooth implementation of these two agendas.
To ensure this, the national government is seeking partnership with county governments and private sector to achieve the 'Big Four' Agenda, more so due to the resource-intensive nature of the investments needed to achieve the four set priorities. This means that legislation should be in place to implement some of the key actions towards the realization of the 'Big Four' priorities to roles being clarified for smooth implementation between the national and county governments.
Arising from the cooperation and partnership between these two levels of governments, the greatest benefit of devolution is that county governments can tailor local development investments to the needs of the local people by defining priorities and better still, align with the Big Four Agenda. This will ensure that county governments are in sync with efforts at the national level.
County Integrated Development Plans (CIDPs) will then need to be aligned with Big Four priorities and collaboration between the national and county governments, established by closing capacity gaps in legislation and budgeting.
A closer look at each of the Big Four Agenda and the expected way forward in the cooperation in an effort to work for the Kenyan people shows the opportunities developments and challenges faced.
Food challenges
Agriculture is the backbone of Kenya's economy and food security is one of President Uhuru's Big Four Agenda. Agriculturally, Kenya faces severe food challenges with about 3.5 million according to the Global Hunger Index 2018; with the country still having "serious levels of hunger" with a score of 23.2 and a ranking of 77 out of 119 countries.
With farmers feeling disillusioned and lacking access to credit to acquire inputs and other incentives to invest more and produce more coupled with no clear long term food security strategy in place, rising imports of basic food commodities like maize and wheat, changing weather patterns and dependence of smallholder farmers, the country is far from food secure. What's more, the National Cereals and Produce Board which is supposed to store and maintain grain reserve stock of up to four million bags on behalf of the Government to be used for food security has been hit by inefficiency challenges and scandals.
Challenges and bottlenecks in the food security situation in Kenya seem to be inherited from lack of political goodwill to implement policies lack of will see the sector grow to full potential and feed the ever-increasing population of Kenyans. What is more, efforts to improve the situation have been thwarted by massive corruption and poor management. To achieve food and nutrition security, the government prioritizes investment in large-scale production (commercial farming), improving the productivity of smallholder farmers, and reducing the cost of food as a strategy to food insecurity.
In the health sector, challenges of affordability and accessibility still exist. The country has been relying on the National Hospital Insurance Fund (NHIF) as the main force to universal health coverage. Although there is a partnership between the national government and four counties to pilot the NHIF model, it is clear that NHIF alone will not deliver. For many years, NHIF has been having challenges of accountability and financial impropriety where collusion to generate false medical bills and defraud Kenyans which has refused to go away.
Perhaps the independent panel of experts with 17 members which have been tasked with coming up with an action plan that will see the transformation of NHIF into a strategic purchaser of health services may breathe some fresh air with new approaches into Kenyans' health challenges.
At 7 per cent, the governments are not spending significantly meaningful resources on healthcare. For universal healthcare to be successful, the government should also consider adopting pro-poor approaches to improving the status of health care in Kenya. The priorities for universal healthcare should include scaling up health insurance coverage (especially among vulnerable groups), constructing referral hospitals, increasing the availability of health personnel, and equipping hospitals with specialized equipment.
In the housing sector, the priorities of the government include reducing the cost of construction, supporting development and provision of affordable home financing solutions, and upgrading informal settlements through the provision of basic infrastructure and services such as water and sanitation.
Although government plans to build 500,000 affordable houses by 2022 with an allocation of Sh6.5 billion in the last financial year, which some property insiders say is too little, given the country's housing woes with how this will work out at county level yet to be very clear. Although this program offers several incentives to attract investors in low-cost housing, including servicing land in major towns to prepare them for such initiatives, the question is whether the 10 per cent expected to come from the budget, as outlined in the government's blueprint on affordable housing is enough although each county government would have to allocate certain funds for affordable housing.
The private sector is expected to contribute a huge chunk of resources and expertise towards the realization of this dream in all counties because the housing project is undertaken by the national government and the county governments in partnership with private developers. For this to happen, the bureaucracy which dogs PPPs in the past must be addressed for success.
The slum upgrading scheme and projects in individual counties, in particular, Nairobi County's Urban Renewal project, whose first phase is expected to bring to the market 14,000 units and Mombasa County's 30,000 affordable houses project that is underway.
The manufacturing sector's contribution to GDP has been shrinking steadily since independence. Providing incentives and a conducive environment will encourage manufacturing. Shielding local manufacturers from the undue and external competition will encourage manufacturers to produce cheaper but quality goods. Moreover, County governments can also extend waivers of rates and certain licenses in respect of manufacturing ventures that operate and employ persons within their counties.
Overall, the national government should ensure capacity gaps in legislation, budgeting and other critical areas are plugged and align CIDPs to the 'Big Four' to make devolution and implementation of the Big Four and a success.
Prof. Mogambi, Communication and Social Change Expert, teaches at the University of Nairobi, Email: hmogambi @ yahoo.co.uk