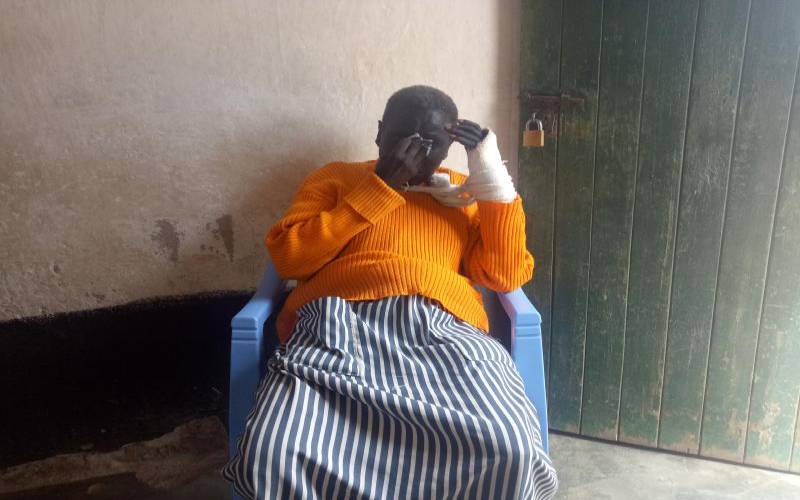 Rift Valley
Veteran circumciser says she has learnt her lesson and pledges to be an anti-female genital mutilation campaigner.
There are few women who understand female genital mutilation better than Grace Chepochetindi, 82. This grandmother from Arpollo village, West Pokot County, is now behind bars after she was found guilty of performing FGM last year. Over the years, in a period that weathered colonial efforts to ban the practice, Chepotindi put more girls than she can remember under the knife. Now serving a four-year jail term at Kapenguria GK prison, she regrets subjecting innocent girls to the painful cut.
SEE ALSO: Why court freed man who killed his father
"Some of them bled to death. Many had challenges giving birth and ended up dying. I have learnt my lesson and will be an anti-FGM ambassador when I am released," she said. When she started her trade, the tool of choice was a curved nail. Now, it is a razor blade. The work, she concedes, is grueling. Frightened young girls would typically sit naked on a rock or cow skin as they underwent the painful procedure. Once done, their mutilated body parts would be thrown to the birds. Although she blames lack of knowledge for her tribulations, she has no alternative but to persevere the harsh environment behind bars. Chepochetindi was found guilty of committing FGM on a 10-year-old girl in Chepukui village, West Pokot County. She was sentenced on November 26, 2018 for a jail term that will keep her away from innocent girls until 2022.
SEE ALSO: 40 families homeless after another landslide
Broken arm
Cattle rustling along the border of West Pokot and Elgeyo Marakwet counties had forced her to leave her home to seek refuge at a friend's house in the neighbouring Chepukui village. "While at my friend's, her neighbour asked me to circumcise one of the girls. But I hesitated because they wanted me to cut the girl yet her parents were not around. I only agreed when they offered to pay Sh1,000," she said. Immediately she was done, unknown people stormed the hideout and started beating her. She cried for help and a chief came to her rescue. "They beat me so badly they broke my arm," she said.