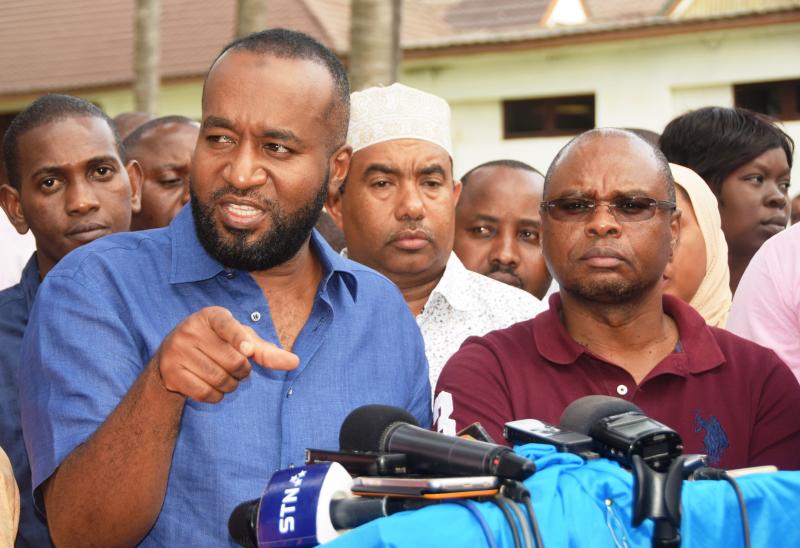 In the fight for control of Coast politics between Kilifi Governor Amason Kingi and Mombasa Governor Hassan Joho, the Kilifi County chief seems to be holding the aces.
While there is still a long way to go to the next elections, both governors are keen to shore up their bases in their bid to become the region's de facto leader.
And both have adopted different strategies.
The tide seems to be shifting in Governor Kingi's favour with two hugely successful meetings in recent past. In July, Kingi hosted 19 of the region's MPs and two senators to a strategy meeting. Last week, he held a follow up meeting attended by several Taita Taveta, Tana River, Kwale, Mombasa and Lamu MPs and a number of Members of the County Assembly (MCAs) from the region's six counties.
Governor Joho has been playing national politics, and has toured several parts of the country where he addressed rallies in Rift Valley and Nyanza. Whereas Kingi has adopted a "charity begins at home" approach and has put his energy to galvanising the region politically, Joho is keen on riding on his key position as ODM deputy leader and national appeal to woo the region.
Both, however, have renewed calls for a united Coast even as they forge different paths to national politics as their tenure as governor nears the end. But they are reading from different scripts on the push for a referendum to amend the Constitution.
Joho says the question is when, and not if, a referendum is held and has asked locals to prepare ideas on what they want addressed in the vote.
"We want the Building Bridges Initiative committee to take our views which will help us get a good constitution," said Joho.
Kingi's support for the constitutional change came with a caveat. "We have our bare minimums that must be agreed with for us to enter this referendum bandwagon. Unless our issues are captured in the changes, there will be no need for us to participate in a referendum," he told a meeting of the Jumuiya ya Kaunti za Pwani (JKP) in Mombasa recently. Kingi wants introduction of the full federal governance system, which he says will see more than 80 per cent of the country's budget being distributed to counties.
"The unity of the Coastal people is key to the prosperity of our region. As a people, it is fundamental that we share ideas and resolve to pursue our vision of unity and togetherness so that we can develop this region. We want the devolution of Ronald Ngala, where we will have a say on what belongs to the coast people," he said.
"Everybody wants the referendum and there is no going back," Joho told the JKP meeting. Joho insists that the Coast must be represented at the very top of the country's leadership in 2022 and is riding on his ODM position as deputy party leader to endear himself to locals.
Kingi agrees, but says the region can only make an impact in the nation's political front when it is speaking in one voice, its people are empowered and using their resources to develop.
Such is the departure for the two leaders, with one playing to the national gallery while the other to the region.
Following the March 9 handshake between President Uhuru Kenyatta and opposition leader Raila Odinga, the two former critics of the Jubilee government have mellowed their hard stance.
But their paths have taken them to separate directions. As Joho looks at the national politics with a target of inheriting Raila's political constituency, Kingi opted to build political networks from within the region which he hopes will catapult him strongly to national arena.
Ngala Chome, a PhD candidate at Durham University in the UK, says Coast politicians usually tap into national politics to gain a favourable position within local political and economic battles.
"Marginalised from centres of power, politicians from the Coast have been forced to play second fiddle to their up-country counterparts, each trying to please and/or attract the attention of a powerful up-country leaders or a political party conceived from outside the region," argued Chome.
Kingi, a Giriama, has been under intense pressure from Mijikenda elders to take the mantle of leadership for the region. The Mijikenda forms 70 per cent of the population in the coast, according to Kilifi North MP Owen Baya. "The elders have been asking leaders to unite and have one of our own rise up and bring the region together. With Kwale, Kilifi, Taita Taveta and parts of Tana River behind him, Kingi stands a better chance to bring the coast together," said Baya. The elders from the Mijikenda, Taita and Pokomo want a leader in the form of former Local Affairs minister Karisa Maitha.
"We desire a leader who can offer direction to our people and give the region a voice. Kingi has the capacity to do that," said Msambweni MP Suleiman Ndori.
Kingi has hinted at having a regional party ahead of 2022 in what captures the resolve he has attached to region's unity.
The Coast region has not been associated with any serious political party since 1964 when Ronald Ngala led the Kenya African Democratic Union (KADU).
Eye on 2022
Regional parties like Shirikisho and KADU-Asili, Federal Party and the Islamic Party of Kenya have had little impact at both regional and national levels and their influence fizzled out as soon as they were established. And as their bids to become the regional kingpin hots up, both governors are supporting different national leaders. While Joho has said he will team up with Baringo Senator and Kanu Chairman Gideon Moi ahead of 2022, Kingi has shown a soft spot for Deputy President William Ruto. He has however not come out to declare support for the DP.