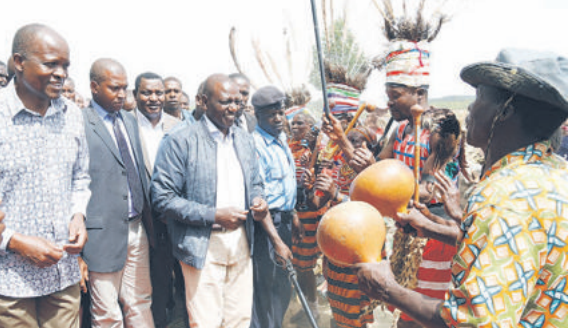 Deputy President William Ruto closed ranks with Migori Governor Okoth Obado to push back against former Prime Minister Raila Odinga's resurgence in elective politics through the handshake.
And in Trans Nzoia, hordes of Raila-allied MPs were wooing former presidential candidate Peter Kenneth to team up with their leader for the 2022 contest, now thrown wide open through a presidential declaration.
Picking on Raila's popular "crocodile in River Jordan" and his famed riddles, Ruto and Obado left every impression that the object of their punches was the NASA leader.
Fired up
"Right now, you should be making observations on who is doing what in developing our country and touching the lives of the underprivileged. At the right time you will judge if stories and riddles benefited you or the actions we are embracing now," Ruto said while commissioning the Kemera-Keboba-Keumbu Road
But Obado was more fired up than Ruto, trashing the crocodile narrative as untrue, unhelpful to the country and falling short of blaming his woes on his party leadership. Obado is facing murder charges over the killing of university student Sharon.
"I request you to pray for me because there are few people who want to set me into the mouths of crocodiles and they are the ones behind the problems I am going through," Obado said.
The governor, who was elected on an ODM party ticket, tore into Opposition members whom he did not mention for what he termed as politics that cannot help locals realise development.
In his speech, Ruto, while addressing residents of Kemera in Kitutu Masaba, said his focus was not on politics and vowed never to be swayed by those who were only interested in politics.
"We went through political campaigns and elections and we are past that. What we want to focus on right now is developing for our people and country and minding the welfare of ordinary Kenyans who have myriad of problems," Ruto said.
While commissioning the Kemera-Keboba-Keumbu road, the DP repulsed what he termed as divisive politics "centred on self-interests".
At Nyabururu Parish where the DP conducted a funds drive in aid of the construction of a mall, Ruto said the Government has allocated Sh1.1 billion for the electricification of more than 25,000 homesteads in Kisii County.
Local leaders, including Kisii Deputy Governor Joash Maangi, drummed up support for Ruto's presidential bid. "There is a lot that has been done under the Jubilee Government, but we cannot forget the support we have received from our Deputy President. Definitely, we will pay back your good deeds when that time comes. Our friendship is inseparable," said Managi.
But in the Saboti event, Kakamega Senator Cleopus Malala, MPs Anthony Olouch (Mathare), Babu Owino (Embakasi East), Samuel Atandi (Ulengo Usonga), host Caleb Amisi (Saboti) and ODM Secretary General Edwin Sifuna said Raila is too energetic to retire.
"Baba (Raila) is strong and energetic and is ready to serve Kenyans as president. He is not old and I pity those calling on him to quit politics," said Olouch.
Honest leaders
Atandi said Kenya requires reform-minded leaders in power and that Raila is the best bet. He asked Kenneth to team up with Raila to help the country move forward.
The MPs warned Kenyans against supporting leaders with a "questionable track record", arguing that the country needs honest leaders.
"As ODM, we don't have any business with corrupt individuals. Kenyans should not give leaders with questionable records power," said Malala.
Owino said the country will be in safe hands when Kenyans elect leaders not linked to corruption.
"We don't want our country auctioned by greedy individuals. We must ensure that only trusted leaders are in power," said Owino.
Sifuna said Raila is politically active and described those urging him to retire as "insincere and with ill motives".
While addressing the function, Kenneth supported the handshake between President Uhuru Kenyatta and Raila and asked the political class to back the two leaders for the sake of the country's unity.
"I personally support the handshake and if there will be any changes in the constitution, it should be changes that will benefit all Kenyans," he said.
Trans-Nzoia Governor Patrick Khaemba, MPs Ernest Ogesi (Vihiga), Joseph Oyula (Butula) ,Godfrey Osotsi ANC nominated MP were also present in the function.
[Additional reporting by Osinde Obare]