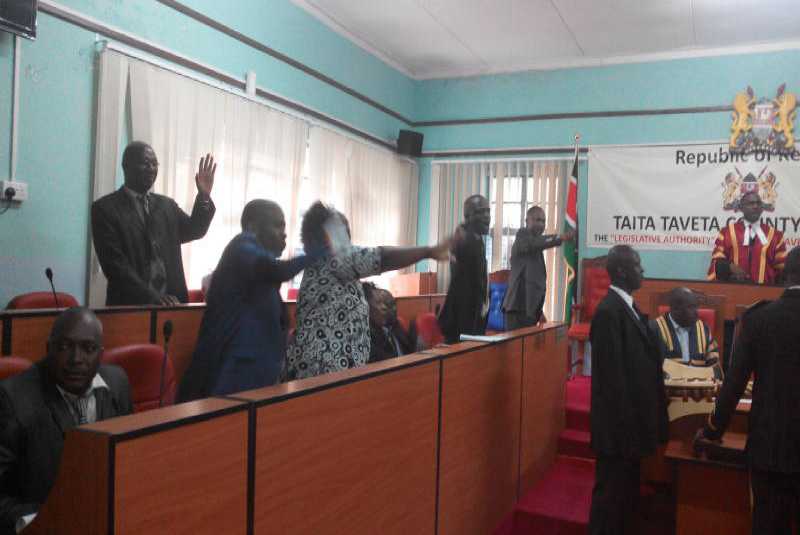 County Assembly Speaker Meshack Maganga is concerned by persistent lack of quorum in the House. Yesterday, the Speaker was forced to adjourn the morning session after he entered the chambers only to find seven Members of County Assembly (MCAs) out of 33. The House has 20 elected and 13 nominated members. Among those present were Minority Leader Ronald Sagurani, MCAs Jones Mganga (Ngolia Ward), Anselim Mwadime (Mgange-Mwanda Ward), Beatrice Mwabili (Wundanyi-Mbale Ward), Newton Salim (Wumingu-Kishushe Ward), Maria Chao and Frank Mmare (all nominated).
SEE ALSO: Four in court over election of MCAs
Deputy Speaker Chrispus Tondoo and Mboghoni Ward Representative Jones Fundi maskuji arrived later only to find the session adjourned. Persistent lack of quorum has badly hit the House business in the recent pas. Although the Speaker had previously exonerated MCAs from blame. In the order paper, the House was supposed to discuss and adopt a report on the vetting of the committees on Administration, Security, Devolution, Public Participation, Community Services and Drugs Control. Following the turn of events, the speaker directed the Sergeant-at-Arms to immediately send messages to the members to attend the afternoon session.
SEE ALSO: City assembly now wants Badi's team to handle pending bills
"The house standing orders cannot allow us to continue with the morning session where there are no members. Let us keep time and make the quorum in the afternoon," said Maganga.