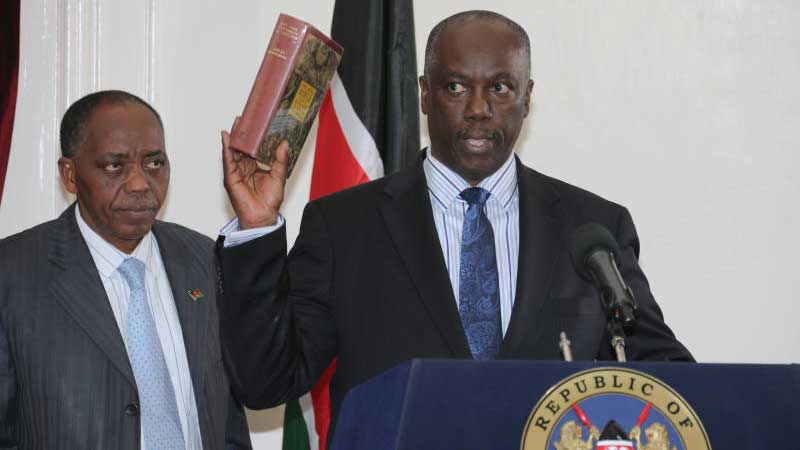 Nairobi
Some of those who have gone through the exercise said to be thinking of quitting
A multi-agency team that reports directly to President Uhuru Kenyatta has adopted a secretive strategy in the ongoing lifestyle audit. Some of the close to 1,000 public officers under investigation targeting those suspended nearly two months ago tell of a covert operation, from how one is picked up till they are delivered to highly secure residences, where the panel of interrogators operate from. Those who have endured the grilling say an individual is called and asked to report to a specific place armed only with his/her national identity card. There does not appear to be a specific schedule for calling, as the summons are seemingly made at random. After arriving at the designated place, the individual is directed to a waiting car, which then takes them to a private residence for grilling.
SEE ALSO: Detectives investigate tenders worth billions of shillings at port
The team is operating from several highly secured houses in different posh estates. The houses do not appear to be inhabited but are very well-maintained. At the residence, the individual meets a panel that introduces itself before sitting to commence the interrogation. "You are asked to give a brief introduction and your background before being taken through the main interview. The stage involves being asked to state what you own and how you acquired it. You are also asked to declare what your close family members own on your behalf," an individual who has been grilled told
The Standard
yesterday. According to a source close to the investigations, if someone gives information that has discrepancies from what is contained in their file, the individual is taken to a different house, where he/she is put through a polygraph test. A polygraph, also known as a lie detector, measures and records several physiological signs such as blood pressure, pulse, respiration, and skin conductivity while a person is asked and answers a series of questions.
SEE ALSO: Kirinyaga County officials probed over graft
So dreadful is the operation that some of those who have undergone the exercise are reportedly contemplating resigning altogether. There are reports that principal secretaries and parastatal chiefs who will also undergo the same test at a later stage have panicked after hearing about the experiences of their juniors. The Multi-Agency Task Team (MATT) headed by Attorney General Paul Kihara brings together several other investigative agencies that have been collecting information on the top Government officers. The team that meets every Tuesday brings together the AG, National Intelligence Service (NIS), Director of Criminal Investigations, Anti-Money Laundering Unit, the Asset Recovery Agency, Banking Fraud Investigation unit, Financial Reporting Centre, Kenya Revenue Authority, Cyber-Crime Unit and Anti-Counterfeit Agency. NIS had secretly compiled a report on each of the top government officials, beginning with the procurement and finance officers, which forms the basis of the interrogations. The spies are said to have done the work in the last one year, in a special assignment by their boss Philip Kameru. The information collected by the team will be used as part of the investigation on the lifestyle audit directive by President Kenyatta on June 1, which made it compulsory for senior Government officials to be asked to explain their sources of wealth.
SEE ALSO: Seven Kebs officials charged with Sh12.79 million fraud
The team has reportedly received the polygraph machines from one of the security agencies involved in covert operations. "We suspect the same agency owns those houses going by the level of security and secrecy," the source said, adding that the team's records are so up to date that "they even remind you of that old asset you had forgotten". In the case of one of the officers, the team asked about a stalled vehicle that had been abandoned in a garage, which had not been declared. Government ministries and departments, parastatals and counties are firmly in the MATT's radar as it seeks to 'tame' corruption cases.