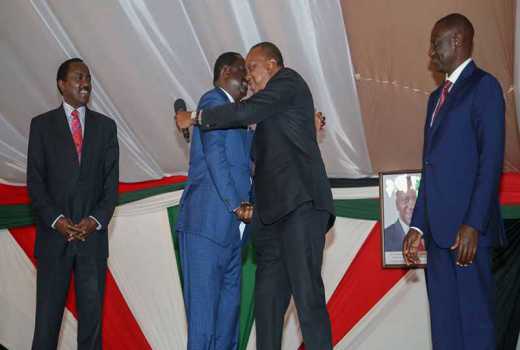 The Uhuru-Rila 14-member Building Bridges initiative has now been officially gazetted and given a year to submit a comprehensive report.
President Uhuru Kenyatta and Raila Odinga established the taskforce comprising Adams Oloo , Agnes Kavindu, Senator Amos Wako, Florence Omose, Saeed Mwanguni, James Matundura, Major John Seii, Bishop Lawi Imathiu, Maison Leshomo, Senator Mohamed Yusuf Haji, Morompi ole Ronkai Prof., Bishop Peter Njenga, Rose Moseu, Archbishop Zecheus Okot to operationalise their reconciliation.
That came in the wake of post-election bad blood that was tearing the nation apart.
The taskforce's joint secretaries are Amb. Martin Kimani and Paul Mwangi .
The terms of reference of the task force are "to evaluate the national challenges outlined in the Joint Communiqué of 'Building Bridges to a New Kenyan Nation, and having done so, make practical recommendations and reform proposals that build lasting unity."
It is also mandated to "outline the policy, administrative reform proposals, and implementation modalities for each identified challenge area; and conduct consultations with citizens, the faith-based Sector, cultural leaders, the private sector and experts at both the county and national levels."
The Taskforce will also regulate its own procedures including appointing, revolving co-chairs from among its members; regulate its own procedure while working within confines of the Constitution; shall privilege bipartisan and non-partisan groupings, forums; shall form technical working groups as necessary.