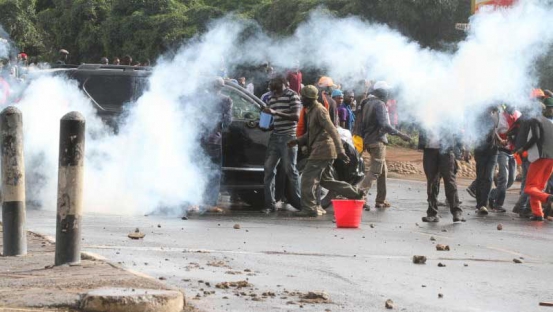 Politics
National Super Alliance (NASA) leader Raila Odinga has condemned violent incidences that marred his return from the US on Friday, November 17.
National Super Alliance (NASA) leader Raila Odinga has condemned chaos that marred his return from the US on Friday, November 17. Raila blamed President-elect Uhuru Kenyatta and the Jubilee Government for orchestrating violence against his supporters. "NASA strongly condemns what has happened today, that is becoming a pattern in our country. We hold President Uhuru Kenyatta and his illegitimate regime responsible for this absurd and unfortunate turn of events. The President has the blood of innocent Kenyans on his hands," Raila stressed. The former Prime Minister pointed out that acts of brutality spearheaded by security officials confirms Jubilee's dictatorship that is taking root in Kenya.
SEE ALSO: Raila, the powerful man with no title can't be ignored in 2022 poll contest
He urged Kenyans of goodwill to take action and support him to ensure that Jubilee Government is ejected from office. "Today's use of maximum brute force confirms our fears that a dictatorship is taking root in Kenya. As citizens, we have a duty and responsibility to stop it now before the roots go too deep," he said. Raila also likened President-elect Uhuru to Yaya Jammeh in the Gambia, Blaise Compaore in Burkina Faso among other controversial African leaders. "Kenyans however need to take heart that the path Uhuru is taking is a beaten one. It is the same path that was taken by Yaya Jammeh in the Gambia, Blaise Compaore in Burkina Faso, Laurent Gbagbo in Ivory Coast, Faure Gnassingbe in Togo and now Robert Mugabe in Zimbabwe. The results here will not be different," stated Raila. Five people lost their lives and several others were injured including Kathiani Member of Parliament Robert Mbui when police clashed with NASA supporters in Nairobi.
SEE ALSO: Hidden allure of one-party state in Uhuru's BBI agenda
According to police spokesman George Kinoti, the dead were stoned to death by angry mobs in different incidences after they were allegedly caught stealing.
Statement from police spokesman, George Kinoti on Friday 17/11/17:
The National Police Service wishes to inform that in today's operations to respond to the unauthorised processions organised by NASA coalition, no live fire was used; only tear gas and water cannons were deployed for crowd control. We are however aware that sections of the mobs accompanying the NASA convoy, looted property and five (5) persons were killed by stoning in different incidences after having been caught stealing by enraged crowds.Two were stoned along Landies Road, two next to country bus station and one along Racecourse Road. Sadly, these incidences occurred before the Police arrived at the various scenes. All these incidences are under investigation.
SEE ALSO: Grim numbers that made Uhuru think twice on reopening
Secondly, we wish to refute claims that a vehicle in the convoy was shot at by an officer and reiterate our position that no live ammunition was used today by any officer. Thirdly, we are aware that several innocent Kenyans had their property looted, vandalised or vehicles stoned by the mobs that accompanied the NASA leaders,or while headed to join the convoys, especially along Mombasa road, Outer Ring Road,Airport North Road, Jogoo Road and Haille Sellasie Road. In this regard therefore, we call upon anyone who may have been assaulted or lost property in any way to report to the nearest Police Station for further action. Lastly we wish to reiterate our commitment to fulfil our mandate of protecting life and property of all Kenyans, which we shall endeavor to uphold without fear or favour.