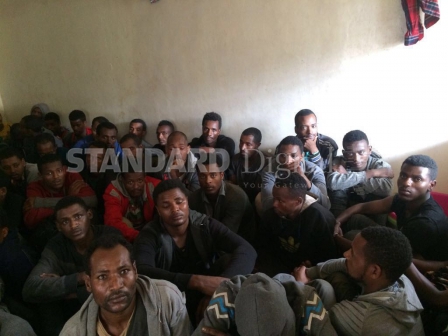 Some 137 illegal immigrants were Friday arrested at a residential house in Mihango, Nairobi. The Ethiopian immigrants had sneaked into the country from Moyale by road and were being smuggled in batches to South Africa using various land borders. Police are holding two Kenyans identified as Dajane Chafu Gale and Chako Jilo Hirbo, they are suspected to be behind the trafficking. The two are profiled as transporters in the illegal human trafficking trade. The men were filed into waiting police lorries and taken to Kayole Police station.
SEE ALSO: Why Ethiopia is an important market for us – Safaricom
Police boss Joseph Gichangi said they are investigating the issue and added the suspects will appear in court Monday before they process their deportation. The arrest has been credited to extra vigilance by the area security agencies On October 6, another group of 67 illegal immigrants from Ethiopia was arrested in the same area. Most of those arrested come here to seek for jobs or are on transit. Police and immigration officials have decried increased cases in which Ethiopian aliens are nabbed in the country while on transit to either Tanzania or South Africa. Police face difficulties in dealing with the aliens because they can neither speak in Swahili nor English. Cases of human smuggling have been on the rise in the region with hundreds of young men from Ethiopia finding their way into South Africa through Kenya in search of employment. What is puzzling is how the immigrants manage to evade many police roadblocks mounted from Moyale border to Nairobi. There are more than 20 roadblocks on the stretch, which raises the seriousness of the security agents to tame the practice.