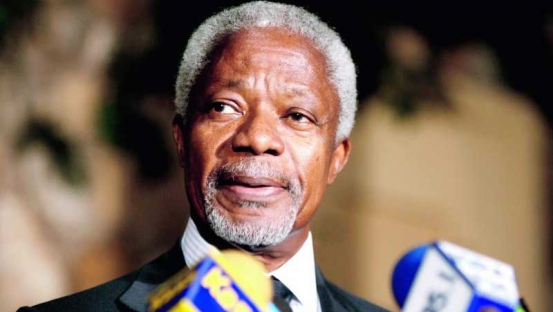 Kenya
Mediator sought to pile diplomatic pressure against Uhuru and Ruto's candidature, offering to organise a meeting in Geneva to discuss possibility of then ICC indictees assuming power.
Former UN Secretary General Kofi Annan actively sought to block the UhuRuto ticket in the 2013 elections. In a briefing with the French Foreign ministry officials on the situation in Kenya prior to the March 2013 elections, Annan -- who brokered the peace deal following the 2007/8 elections -- urged the French ministry to pass the message that "some of the individuals who are indicted will be arrested and transferred to The Hague." The leaks are part of documents obtained by Mediapart, a French news group and analysed by the EIC, the European Investigative Collaborations, in collaboration with the Africa Network for Centres of Investigative Reporting. Annan was pessimistic that the ICC charges would not deter the Uhuru Kenyatta and William Ruto juggernaut in its tracks. Instead, he hoped that a case filed in the High Court to challenge their bid would be upheld.
SEE ALSO: Uhuru men fight to save Ruto ally
Elisabeth Barbier, a director of Africa at the French Ministry of Foreign Affairs responded to Annan's concerns saying: "I can say that it is exactly the message which has been conveyed to the Kenyans by France and the European Union in general."
More violence
Barbier had been the French ambassador to Kenya at the time of post-election violence until 2010 when she went to Paris on a promotion. She returned to Kenya in her new capacity as the director of Africa between June 19 and June 22, 2012 and met with various government ministers including the then Justice Minister Eugene Wamalwa. Her successor as ambassador Etienne de Poncins thought of Annan's concerns as "too pessimistic." His view was that the fear of ICC was not enough to ward off possible violence which he thought would be on a lesser scale. He advocated for raising consciousness of a middle class who craved after stability.
SEE ALSO: Ruto allies in dilemma over divide, rule tactics
In this email, Ocampo also informs Annan that Bensouda "has good relations with Amina (Foreign Affairs CS Amina Mohamed)". In the emails, Ocampo also appears to have bounced off his invitation to an American TV station to Annan: "CNN Christine Amanpour's producer contacting me asking how to discuss the AU issue. I suggested your name. Do you have interest?"
Evidence evaluation
The leaks are silent as to whether Ocampo eventually met President Kenyatta's brother Muhoho as suggested by Kenya's ambassador to the UN Macharia Kamau: "In contact with the brother and he is ready to come to New York any time to meet with you and anyone else you might recommend. Please advise when he should come. Of course the sooner the better." However, it is clear from his muddled response that he was not keen: "I am leaving on Tuesday morning", says Ocampo, "but in any case, I don't think I should be involved in the meetings. It could affect the prosecutor's image. This is her call, she has to decide. You can help to harmonise positions in a proper way".