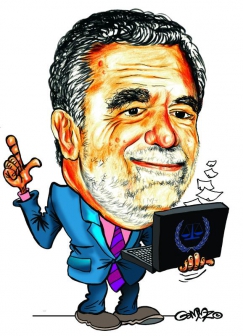 If the revelations published by a consortium of European journalists are anything to go by, the day for former International Criminal Court Chief Prosecutor Louis Moreno Ocampo's bottom to drop came this week.
From the exalted "face of global justice" to the calumny of a rapacious deal-cutter, the fall from grace of the man Kenyans loved and hated in equal measure has come fast -- in a matter of days.
With only but a few snippets of the acclaimed trove of 40,000 emails shared thus far, the show against the man who has regaled in positive reviews for years has just started.
In some of the documents yet to be published, the suppressed side of the showman is unfurled -- cold, ruthless, rash, cocky to the bone, macho to the core and full of false pride: "Kenya is fascinating. We organise a meeting with 300 citizens and we filmed it. We did a one hour programme, the five Kenyan channels requested to issue the programme, they did at the same time," he wrote in an email to a damsel working for a lobby group in the US on May 10, 2010.
Self-importance
What he says next in that email to lady calling him "sunshine" is the stuff the Ocampo myth is conjured up in -- unmitigated egotism and disastrous sense of self-importance: "So yesterday at 2145, Kenyans were forced to see my discussion with the 300 persons. The programme was in all the channels. We reach 15 million Kenyans, half of the population. It is like a Shields production, the government cannot stop us, so they are starting to join us, now I have to deliver my case."
The "show" he was writing of happened on May 9, 2010 during his second visit to Kenya. In the town-hall discussion held at the National Museums of Kenya, Ocampo faced, on live TV Kenya's grand inquisitor John Simbi Okumu: "Perhaps it might not be too rude to ask, you have been here before. Why are you here?" He responded, cockily: "I am here to listen."
"You were invited or you came of your own volition, who invited you?" Simbi Okumu pressed.
"Kenyans invited me to come when they signed the Rome Statute," Ocampo thundered back.
The "sunshine" lady had wanted to know "all about Kenya" and Ocampo was determined to give the impression that he was holding the country in awe. And indeed in those days, he was bestriding Kenya like a colossus.
In those days, he was driven around like a president, chase cars, bodyguards on the side and with people cheering him on in the streets. One word and he would make headlines.
His roar was enough to give top politicians a sneeze of their lifetime. His laughter mockingly distressing to the hordes who suspected that they were subject of ICC investigations and his jaggedness reassuring to those who had nothing to fear: "They have no clue (Former President Mwai Kibaki and Former Prime Raila Odinga). When Ocampo lands here, they will be picked like flies and taken away," late Justice Minister Mutula Kilonzo once fumed while leaving a stormy parliamentary session.
With these commentaries and positive media coverage, the myth of Ocampo took shape. Then from the blues came a colossal of a Ugandan, spitting fire and taking Ocampo by his groins.
David Nyekorach Matsanga came to torment Ocampo, shatter his myth and slow him down. There was no letup in him.
"When I said these things then, most people thought I was a lunatic. Now the chickens are coming home to roost. I told you Ocampo was a con, you didn't believe me. I spend enormous personal resources to unmask him," Matsanga told the Sunday Standard yesterday.
For all the bravado he spewed forth in press appearances, Ocampo proved a damp squib in the courtroom. His underwhelming face-off with Kenyatta inside the ICC courtroom gave every impression of an interlocutory lightweight.
"As Moreno-Ocampo rose to begin the questioning, Kenyatta's face stiffened. The prosecutor hadn't been speaking long, however, when his team, next to him in the prosecution box, sensed something was wrong. Their boss was uncharacteristically awkward and hesitant. His queries were aimless. Kenyatta fended him off at every turn," a New York Times review of the face-off said.
In the classic review, James Verini says Ocampo's colleagues grew nervous -- one of them putting his hands to his face while another shifted chairs, too embarrassed.
"Fifteen minutes in, Kenyatta, cottoning to Moreno-Ocampo's lack of preparation, relaxed in the stand. After Moreno-Ocampo asked a particularly ill-phrased question, a wry smirk overtook the defendant's face. Looking at the judges, he said, coolly, "I think the prosecutor does not understand our system."
From then on, Ocampo never recovered, turning from bad to worse. In contrast, Kenyatta seized the moment and even began to chuckle at his questions. The judges took cue, openly frowning and reprimanding him.
Swelled the caseload
"In Shakespearean terms, Ocampo was as false as water. Forget the show, how accurate could a crime choose balance between sides? How could justice, in all its ruggedness, obtain such symmetry as we saw in three indictments on one side and three on the other?" Pokot South MP David Pkosin told Sunday Standard.
In his nine years at the court, it appears, Ocampo bit off more than he could chew. He swelled the caseload beyond the capacity of the court and attracted swarms of critics. For all his faults, even critics admit he went flat out to build the profile of the court as a feared institution.
His commitment to his work has equally been hailed. To Matsanga and other critics, however, there's nothing good that can come from Ocampo.
"If you see him tell him I will fight him to the last ounce of my blood. He caused a lot of trouble for Kenya for no good reason. He must be jailed for all his travesties," he said.
With the latest revelations, and they are still coming out, Ocampo's fate is mingled with that of the court. His successor Fatou Bensouda's attempt to shake him off has refused to wash while Ocampo himself, like typical politician, has blamed it all on his enemies.
What is certain, however, is that business cannot be the same after these revelations.