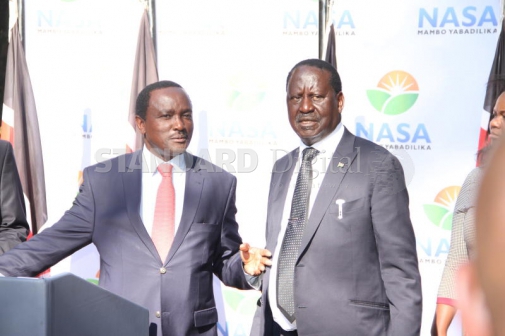 Director of Public Prosecutions Keriako Tobiko has given the police 21 days to investigate Opposition leaders Raila Odinga and Kalonzo Musyoka over their remarks that there would be no elections on October 26.
This followed a complaint to the DPP by lawyer Harrison Kinyanjui on behalf of Samuel Waweru Gikuru.
Tobiko wrote to Director of Criminal Investigations Ndegwa Muhoro on October 2 and directed him to undertake thorough, comprehensive and expeditious investigations into the allegations and report to him within 21 days.
"Such investigations be completed and the resultant investigation files be submitted to this office within 21 days for perusal and appropriate directions," said Tobiko in his letter.
Repeating statements
Kinyanjui had demanded the investigation, arrest and prosecution of the two Opposition leaders for uttering and repeating statements to the effect that there will be no presidential elections on October 26, in breach of section 13 of the Election Offences Act.
This, according to the lawyer, is in breach of section 131 and 132 of the Penal Code in harassing and intimidating Independent Electoral and Boundaries Commission (IEBC) officers.
Section 132 of the Penal Code states:
"Any person who, without lawful excuse, the burden of proof whereof shall lie upon him, utters, prints, publishes any words, or does any act or thing, calculated to bring into contempt, or to excite defiance employed in the public service of or disobedience to, the lawful authority of a public officer or any class of public officers is guilty of an offence and is liable to imprisonment for a term not exceeding three years."
Kinyanjui also argues it is contemptuous to the Supreme Court judgment on the polls.
NASA has said they are ready to go to the elections but will not do so unless their "irreducible minimum" demands are met. The demands include changes at IEBC.
The DPP said a team of prosecutors had been designated to provide technical guidance and assistance to the investigating team. Ethics and Anti-Corruption Commission CEO Hallakhe Waqo was copied in the communication.
This adds to the list that teams formed are investigating in relation to the bungled August 8 presidential polls.
On Tuesday, the DPP ordered police to probe six employees of Safaricom accused of interfering with the poll results.
Safaricom CEO Bob Collymore has defended the employees and protested it was wrong for the politicians to expose them to harm.
Police will also investigate Jubilee chief agent Davis Chirchir after he was named by the National Super Alliance (NASA) in a letter to the DPP.
Private prosecution
NASA had threatened a private prosecution on the targeted individuals.
The Opposition accused Chirchir of illegally accessing IEBC servers.
Chirchir has, however, denied any wrong, saying the access was legally facilitated by the electoral commission to agents of all the six presidential candidates.