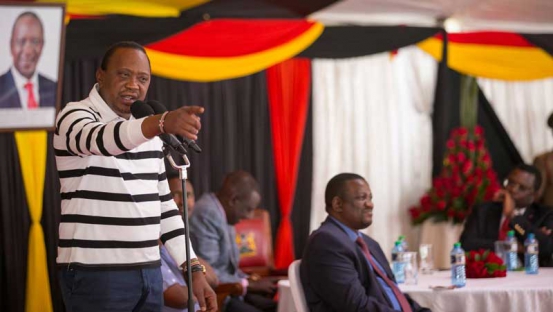 President Uhuru Kenyatta hit out at the Supreme Court on Saturday questioning the grounds on which his nullification was determined.
Accompanied by his deputy, William Ruto, President Uhuru threatened to 'deal with' the Judiciary should he be re-elected in 60 days.
"Even if you are so stupid, ask yourself something: The people elected an MCA, results were transmitted, and no one asked questions. Those of MPs and senators were transmitted, and no one asked questions and they have been sworn in.
"Those of governors were transmitted, no one asked questions. Now how do four people and wake up and say there was a technicality in the transmission of the results of the President only? How?" asked Uhuru.
The President also threatened to deal with the Supreme Court judges if he is re-elected.
https://www.youtube.com/watch?v=sj7XKT3h3C0